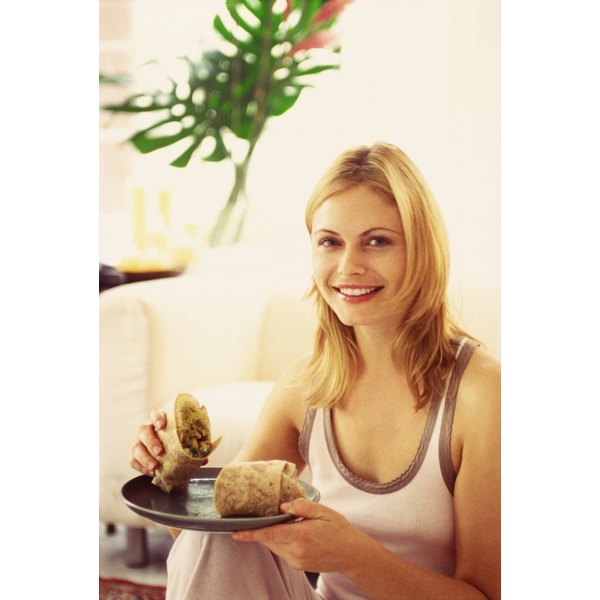 Jogging is a healthy way to burn calories, get in shape and lower your risk of developing heart disease. But when you're burning additional calories, your body needs more fuel to keep rebuilding muscle tissue and keep you feeling alert and energized all day. Talk to your doctor before you make any changes in your diet or exercise program, especially if you have health conditions, allergies or injuries.
Breakfast
Although skipping breakfast might save you a few minutes in the morning, pack a nutritious meal to go even when you don't have time to sit down. Eating breakfast jump starts your day by stabilizing your blood sugar, keeping you alert and focused. Eat an omelet with four egg whites, onion, spinach and some shredded Swiss cheese, an orange, a piece of rye toast, a glass of milk and a small glass of pomegranate juice if you have time to sit down for a full meal, recommends "Fitness" magazine. If you're on the go, grab two slices of whole-grain toast with peanut butter and a banana.
Lunch
Refuel your body with a nutritious lunch to replenish the glycogen stores in your body if you've already exercised, or to fuel your body if you plan to go jogging before dinner. Wait at least two to three hours after you eat lunch to exercise -- this way, your body has enough time to digest the calories in your food and turn them into energy for your workout. For lunch, try a turkey and cheddar cheese sandwich with avocado and sprouts on whole-grain bread with lettuce and tomato. Serve with a side of carrot sticks and a glass of water.
Dinner
Eat a filling and nutritious dinner to restore your glycogen stores and help your muscles heal after your active day. Cook a 4 ounce lean pork tenderloin in a frying pan with a small amount of olive oil, and serve alongside 1 cup of brown rice and 1 cup of steamed green beans. Eat your meal with a whole grain bagel to incorporate all of the essential food groups.
Snacks
Snacking is imperative when you lead a physically active lifestyle. About one hour before and 15 minutes after you jog, eat a nutritious snack that contains fast-acting carbohydrates and long-lasting protein. Eat a handful of crackers with peanut butter an hour before your jog, and a container of yogurt with blackberries to boost your energy 15 minutes after your jog.