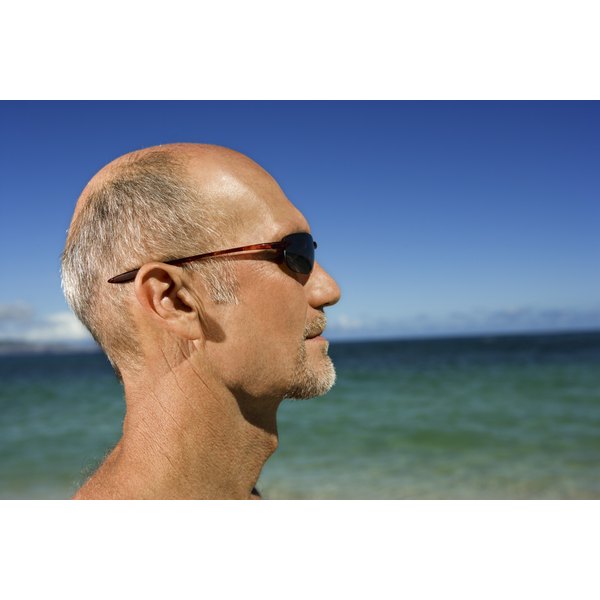 Pygeum is frequently used to relieve symptoms of an enlarged prostate in Europe and has gained acceptance as a treatment for hair loss due to the connection between prostate problems and pattern hair loss. While pygeum has clinical support for prostate treatment, there have been no clinical studies on its effectiveness to treat hair loss. You should consult your physician before taking pygeum.
What Is Pygeum?
Pygeum is a tree that is native to the African forests and grows in the higher elevations of southern and central Africa. Also known as the African plum tree, it can reach heights of up to 150 feet, but frequent harvesting of the tree has left it endangered. Tree farms are being established to grow the trees and limit harvesting in the forests. It is the tree bark that is used for medicinal purposes.
Hair Loss and Benign Prostatic Hypertrophy
The correlation between pattern hair loss and an enlarged prostate is well-known in the science community, as both are caused by dihydrotestosterone. DHT, an androgen, is formed when testosterone is converted into it by an enzyme known as Type II 5-alpha-reductase. The leading prescription hair loss treatment, Propecia, is a 1-mg tablet of finasteride, while 5-mg finasteride tablets are sold as Proscar, which is one of the leading treatments for an enlarged prostate. Finasteride works by inhibiting Type II 5-alpha-reductase, which in turn limits the production of DHT.
Pygeum and DHT
The American Hair Loss Association, the only national, nonprofit 501(c)3 charity devoted to hair loss, states that when DHT is suppressed, hair follicles will continue to produce healthy hair. In the book, "Nutrition for Healthy Skin: Strategies for Clinical and Cosmetic Practice," Jean Krutmann, professor of dermatology and environmental medicine at the Heinrich-Heine-University in Dusseldorf, Germany, states that pygeum is believed to inhibit 5-alpha-reductase, which will limit the production of DHT. This gives some credence to the idea that pygeum may help with hair loss. Professor Krutmann does state that while there is no scientific evidence to support pygeum's use for male pattern baldness, it is often contained in herbal hair loss treatments.
Dosage/Safety
Side effects from pygeum are rare, with mild gastrointestinal upset being the only one reported. There are no known interactions with other supplements or medications. As pygeum has not been tested as a treatment for hair loss, there is no recommended dose for that use. As a treatment for prostate problems, daily doses have ranged from 25 milligrams to 200 milligrams, but it is best to speak to your physician before taking pygeum for hair loss or for any other condition.