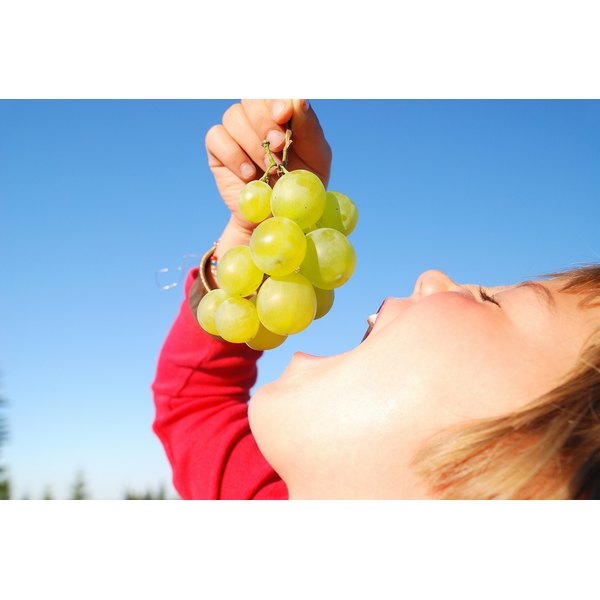 Many kids like grapes -- they're a sweet finger food that can be fun to eat. They're also a good-for-you fruit with much in the way of nutritional value for children. Whether you pack them for your child's school lunch or serve them as an after-school snack, kids benefit from the vitamins and minerals they contain.
Calories and Fat
As a rule, kids do not need to monitor their caloric intake as long as they eat a balanced diet. However, ideal intake ranges from 1,600 to 2,500 calories per day, depending on the age of your child. Eating grapes does not contribute a great deal of calories to a child's diet -- a 1-cup serving of grapes contains 104 calories, and your child also receives 0.5 grams of fat.
Vitamin C
One cup of grapes provides 16.3 milligrams of vitamin C. Children require anywhere from 15 to 45 milligrams of this vitamin each day, so grapes are an excellent choice for contributing to their daily need. Vitamin C is a critical nutrient for growing children because it contributes to the growth and repair of tissues in the body. It also aids in the growth of blood vessels.
Potassium
Kids, like all people, need potassium for heart function and digestion, and eating grapes can help them get the potassium they need. Pack a serving of grapes in your child's lunch, and they get 288 milligrams of this nutrient. Children require 1,000 to 2,000 milligrams of potassium per day, depending on age.
Calcium
Grapes are not an excellent source of calcium, but they do provide 15 milligrams per serving. Your child requires 500 to 1,300 milligrams of calcium each day. Getting enough calcium in your child's diet is critical because this nutrient contributes to bone and tooth growth. Consider serving grapes with an ounce of cheddar cheese to help boost calcium intake.