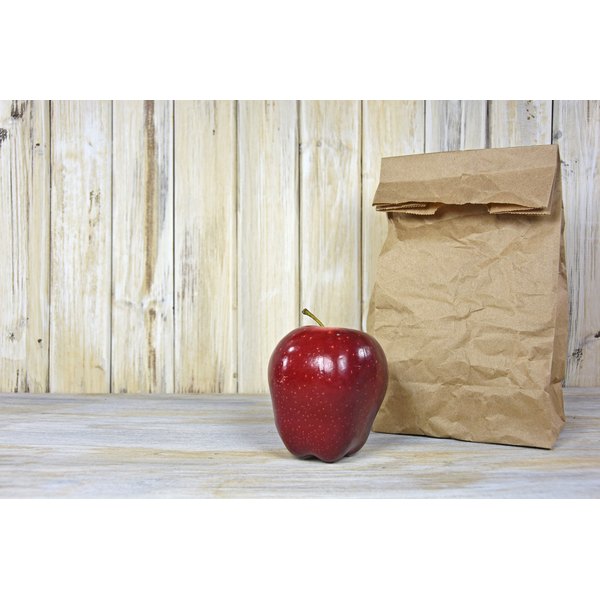 Kids can be notoriously picky eaters. And if your child refuses to eat the lunchbox food of choice -- sandwiches -- you may be challenged in finding healthy alternatives. Sandwiches are neat, portable and nearly a no-brainer. But there are other healthy lunchbox choices for your child.
Wrap It
Swap out basic bread for a tortilla or lavash bread and you have a new lunchtime classic -- the wrap. Standard sandwich fillings from peanut butter and jelly to cold cuts can be stashed in a wrap. You can also try filling your wrap with hummus, leftover Spanish rice, whole beans or cold roasted vegetables, with or without a sauce.
Breakfast for Lunch
Packing breakfast foods in their brown bag adds novelty to your child's lunch hour. Try a bagel and cream cheese or other spread -- peanut butter or other nut butter, hummus or mashed avocado. Whole-grain pancakes pack well and can also be spread with fruit preserves. Or pop in a bran muffin as the main course.
Cheese and Crackers
Cheese and crackers make for a nutritious and filling school lunch entree. Use whole-wheat crackers and aim for lower-fat cheeses when possible. Consider adding other finger-friendly cracker toppings such as cubes of salami or ham. Sliced hard-boiled egg is another high-protein option worth considering.
Noodle Salad
Cold noodle salads may work for sandwich haters. They're also a way to send along a vegetable-heavy lunch. Dress spaghetti, soba or other long noodles with a sauce and pile on additions such as grated carrots and cucumbers, sliced scallions, slivers of red bell pepper and cubes of chicken or tofu. Choose whole-grain noodles for maximum nutritional value.
Tortilla Chips
Baked tortilla chips plus tomato salsa and a Southwestern-style whole-bean salad equals a healthy, kid-friendly lunch that's completely sandwich-free. Your child will be pleased by the snack-food angle of this lunch while you'll be rewarded by providing a high-fiber, high-protein meal.
On a Stick
If your child hates sandwiches, try skewering his lunch instead. You can use wooden or plastic cocktail toothpicks if you like, or for a clever alternative for younger kids, take a tip from "Parents" magazine and use pretzel sticks as skewers. Try rolled cold cuts, fruit and cheese kebabs, cherry tomatoes plus mozzarella and a basil leaf or barbecued chicken and pineapple as combinations.