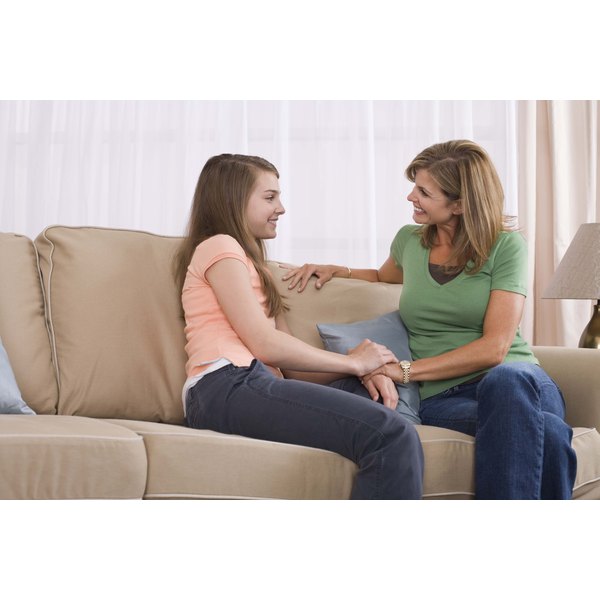 The teenage years, though awkward and confusing, is the time when parents can help shape and mold their children to become unique and competent adults. Some teens may pass through these years with ease while others may struggle to find their place in the teen crowd. Speak to your child about how you were like as a teen and how you handled certain situations. Encourage your child to participate in social activities and academic groups of interest.
Family Relationships
According to ChildTrends.org, a teen's social skills development is strongly associated with their relationship to their parents. Child/parent relationships teach important lifelong lessons and skills about communication, conflict resolution, intimacy, emotional support and companionship. Relationships with siblings, aunts, uncles, grandparents and other close family friends build these lifelong lessons and skills as well. Establish a warm, responsive and supportive relationship with your daughter and encourage open communication.
Mentoring Programs
Many schools and community organizations provide mentoring programs that teach teenagers the knowledge, skills and abilities needed to improve social behavior. The organization called Collaborative for Academic, Social and Educational Learning, for example, provides educational programs and training that teach teens how to make friends, boost self-esteem, understand social awareness and learn relationship skills. Certain mentoring programs, such as Big Brother/Big Sister, pair teens with adults who may teach them social and communication skills as well.
Extracurricular Activities
After-school activities, such as cheerleading, not only encourages your teen to live a healthy, active life, it also pairs your teenage daughter with other like minded souls who appreciate music, art or a particular sport. Certain after-school activities also build your daughter's character, teach leadership skills, build confidence, and encourage friendships. Encourage your child to sign up for extracurricular activities that interests them, like sports, a book club or the debate team.
Other Considerations
While social awkwardness is not uncommon during the teenage years, a drastic change in your teenage daughter's behavior or grades may be worrisome. Seek medical care if your teen daughter exhibits drastic mood swings, has problems with sleep, gains or loses excessive weight, or abuses alcohol, tobacco or drugs. These types of behavior may be symptomatic of an underlying issue such as depression, anxiety or other behavioral problems.