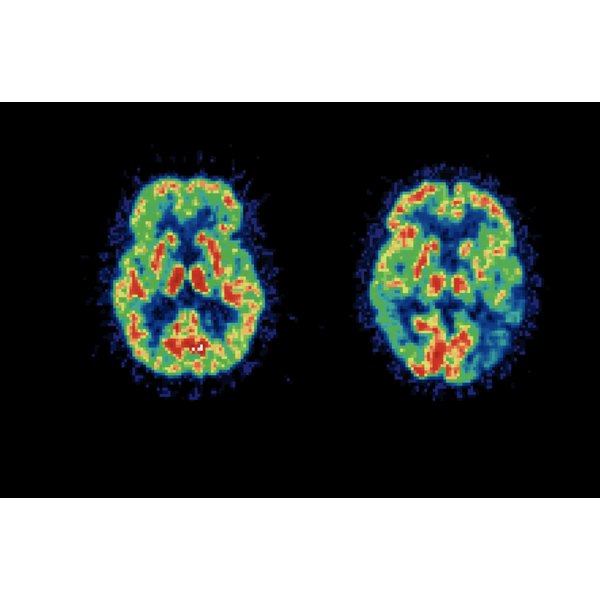 Alzheimer's disease is a devastating and costly illness that robs people of memory, independence and dignity. This condition is characterized by the presence of beta-amyloid plaques, which are made from a substance called amyloid-beta protein, and neurofibrillary tangles in the brain. Because current drugs are of limited effectiveness, some researchers have studied the ability of supplements and herbs to prevent the formation amyloid plaques.
Nutritional Supplements
One hypothesis about Alzheimer's disease is that free radicals may be involved in its development, a perspective that has sparked interest in antioxidant and anti-inflammatory drugs and supplements. According to an April 2011 article in the "Journal of Psychosocial Nursing and Mental Health Services," research on vitamin supplements shows there is no evidence that vitamin E, an antioxidant, improves this condition. The B vitamins and omega-3 fatty acids are also ineffective.
Gingko Biloba
The review paper published in the 2011 issue of "Evidence-Based Complementary and Alternative Medicine" reports that a randomized, placebo-controlled, double-blind study with a large sample size found no difference between gingko biloba and a placebo on measures of patient functioning. A second study found that gingko biloba was better than a placebo and equal in effectiveness on some, but not all measures of function, to the Alzheimer's drug donepezil. However, the sample size was small, a fact that limits the ability to apply these findings to larger populations.
Ginseng
The same article in the 2011 issue of "Evidence-Based Complementary and Alternative Medicine" reviewed a clinical trial of ginseng in which subjects were randomly assigned to groups receiving either 4.5 or 9 mg of ginseng or a placebo. At the end of the 12 weeks, patients receiving the high dose of ginseng fared better than those who didn't. However, this was not a double-blind trial, the sample size was small and the patients continued to take conventional medications.
Lavender
Research published in the April 2011 issue of the "Neuroscience Bulletin" indicated that Lavandula angustifolia, a type of lavender, improved spatial learning deficits found in rats that had been given injections of beta-amyloid peptides similar to those found in Alzheimer's disease. Results of this study indicated that the 100 and 200 mg/kg doses of this herb improved performance on this task, but the 50 mg/kg dose had no effect. As of September, 2011, however, this research has not been replicated in humans.
Garlic
A study published in the January 2009 issue of "Phytotherapy Research" examined the ability of both fresh and raw garlic to prevent the aggregation of fibrillar Abeta, the principal component of amyloid plaque. An extract of raw garlic was able to prevent the formation of fibrillar Abeta in laboratory animals and degrade the fibrils that had already formed. Boiled garlic was also able to prevent the formation of the fibrils but was largely ineffective in defibrillating the existing ones.