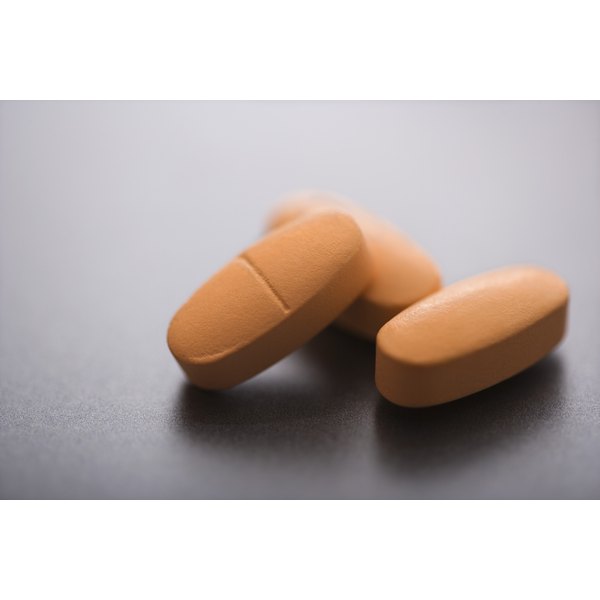 Hyperreflexia is the disordered and exaggerated response to stimuli commonly caused by spinal cord injury, electrolyte imbalance, brain injury and certain medications. The reactions generally include high blood pressure, change in heart rate, increased sweating, anxiety, bladder dysfunction and change in skin color. Treatment depends on the underlying cause, and may include medications and surgery. Some supplements such as magnesium may also help manage the condition.
Magnesium
Magnesium is a mineral that plays an important role in the activation of enzymes, production of energy and regulation of calcium and vitamin D levels in the body. It is the fourth most abundant mineral in the body and can be obtained from foods such as tofu, legumes, whole grains, green leafy vegetables and nuts. According to the National Institute of Health's Office of Dietary Supplements, your body requires 80 to 420 milligrams of magnesium per day, depending on your age and overall health. Apart from dietary sources, your doctor may also recommend magnesium supplements to overcome deficiency of the mineral, and to treat conditions such as high blood pressure, migraine headaches, restless leg syndrome, premenstrual syndrome and heart disease. The dose varies for each individual. Your doctor may help establish a regimen that is right for you.
Role in Hyperreflexia
Magnesium may help control hyperreflexia in women with spinal cord-injury during labor, according to a study published in August 2000 issue of the "American Journal of Obstetrics and Gynecology." Magnesium may, in fact, be more effective than epidural anesthesia in managing the condition, the study says. Another article in the March 2002 issue of the "British Journal of Anesthesia" reveals that administration of magnesium sulphate may reduce the severity and frequency of hypertensive reactions in spinal cord-injury patients, and may thereby help manage hyperreflexia. Dr. George A. Mashour, author of the book "Case Studies in Neuroanesthesia and Neurocritical Care," reaffirms that magnesium sulphate can help successfully manage hyperreflexia in spinal cord-injury patients.
Side Effects
Most hyperreflexia patients may receive magnesium intravenously under the supervision of a doctor. No major side effects have been reported in such cases. Oral magnesium supplements are available at most pharmacies without a prescription. Overuse of the supplements may lead to upset stomach, diarrhea, low blood pressure and reduced heart rate. The supplements may also interfere with certain blood pressure and diuretic medications, and antibiotics such as tetracycline.
Precautions
You should not take magnesium supplements to treat hyperreflexia without consulting a doctor. Make sure that your supplements have been approved by the Food and Drug Administration or by the United States Pharmacopeial Convention for safety and efficacy.