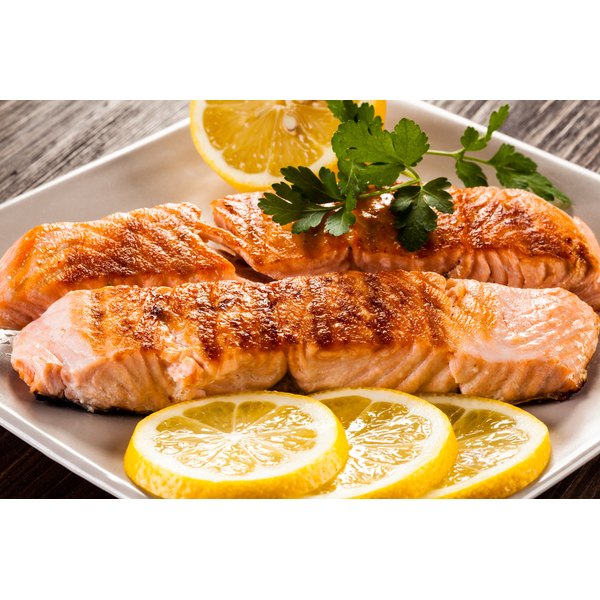 Depression is the second most common cause of worldwide disability among people aged 15 to 44, according to the World Health Organization. While serious depression requires medical treatment, if you're experiencing mild depression, or have just been feeling down recently, dietary changes can help. Certain foods provide nutrients that improve your mental functioning and may help cheer you up. The information presented in this article is not intended to replace standard treatment. If you or someone you know is at risk for self-harm or is considering suicide, seek skilled medical care immediately.
Cold Water Fish
Cold-water, deep swimming fishes, such as tuna, herring, salmon and Spanish mackerel, are healthy foods to eat when you're feeling down. According to the "Doctors Book of Food Remedies" they are exceptionally rich in omega 3 fatty acids. Omega 3 fatty acids have gained popularity due to their role in the prevention of heart problems. The book reports these healthy unsaturated fats also play a significant role in boosting mood. Try to get two to three servings a week for the greatest benefit.
Complex Carbohydrates
Complex carbohydrates, such as those found in whole grain pastas, breads, and grain-based cereals, are another choice when you're unhappy. Richard and Judith Wurtman, both of whom have PhDs and conduct research for MIT, report that diets rich in complex carbohydrates help the human body produce serotonin, the major neurotransmitter responsible for producing feelings of happiness and contentment. In fact, this is the very neurotransmitter targeted by some prescription antidepressants, such as Prozac.
Foods High in B Vitmains
More nutritious foods you can eat when you need some cheering up include dark green, leafy vegetables, eggs, poultry and fish, as well as fortified cereals and plant-based milks. These foods are high in B vitamins, especially vitamin B12. While further research is necessary, Mayo Clinic reports low B vitamin levels may be linked to depression. What is known is that B vitamins help maintain the health of the human central nervous system so it's reasonable that adequate levels of B vitamins would help support brain function and mood.
Foods to Avoid
Just as there are foods that can help you feel better if you're sad or upset, there are also foods you should avoid. Though you may experience cravings for salty, fatty or sugary foods, you should do your best to avoid these foods, or at least resist eating them in large amounts. Though researchers don't currently understand why, Mayo Clinic reports that people whose diets include large amounts of processed meats, refined sugars, refined grains and fried food were more likely to suffer from depression than those whose diet was based on more natural foods.