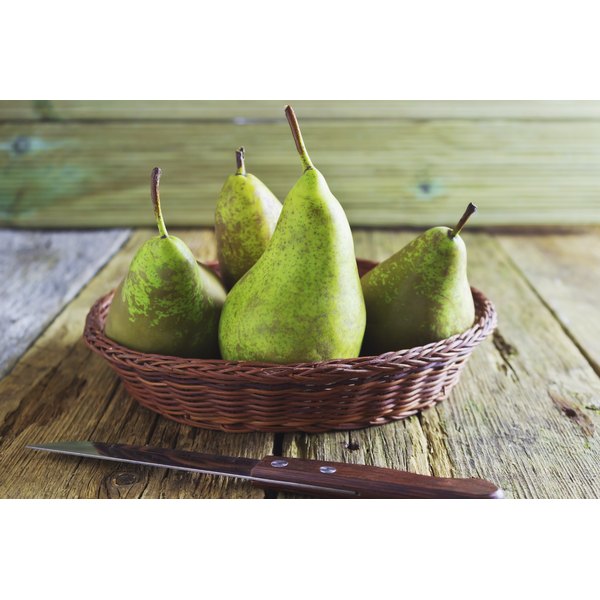 Although more than 3,000 varieties of pear have been identified, only a few varieties are readily available for consumption in the United States. Among the green varieties are green Anjou pears, Bartlett pears and Concorde pears. Other available pear varieties range from yellow and pink to brown and red. They include Asian pears, Starkrimson and red Anjou.
Tip
Green Pear has per 100 gram serving according to the nutrition facts provided by the USDA Food Composition Database.
Size
By gram weight, a cup of pear ranges from 140 to 161 g, depending on whether it is sliced or cubed. In comparison, a small pear is about 148 g, medium 178 g and large 230 g. Because adults should eat about 2 cups of fruit each day, according to the 2010 Dietary Guidelines for Americans, a small pear fulfills about half of the daily requirement and a large pear fulfills about three-quarters of the requirement.
Macronutrients
One medium pear contains 103 calories, 27.5 g of carbohydrates, 0.68 mg protein, 0.21 g of fat and 5.5 g of fiber. Adults should eat a minimum of 14 g of fiber for every 1,000 calories in their diets, according to the 2010 Dietary Guidelines for Americans. That means a medium pear contributes 26 percent of the minimum fiber requirements for a 1,500-calorie diet.
Vitamins
Each medium pear contributes 7.5 mg of vitamin C toward your daily requirements, as well as 12 mcg of folate, 9.1 mg of choline, 23 mcg of beta-carotene, 41 international units of vitamin A, 80 mcg of lutein + zeaxanthin and 8 mcg of vitamin K. The lutein and zeaxanthin combination is an antioxidant mix related to improved eye health.
Minerals
Like most fruits, pears are high in potassium and low in sodium. A single medium pear has 212 g of potassium and only 2 mg of sodium. Other minerals include 16 mg of calcium, 0.3 mg of iron, 12 mg of magnesium, 20 mg of phosphorus, 3.9 mcg of fluoride and 0.2 mcg of selenium.