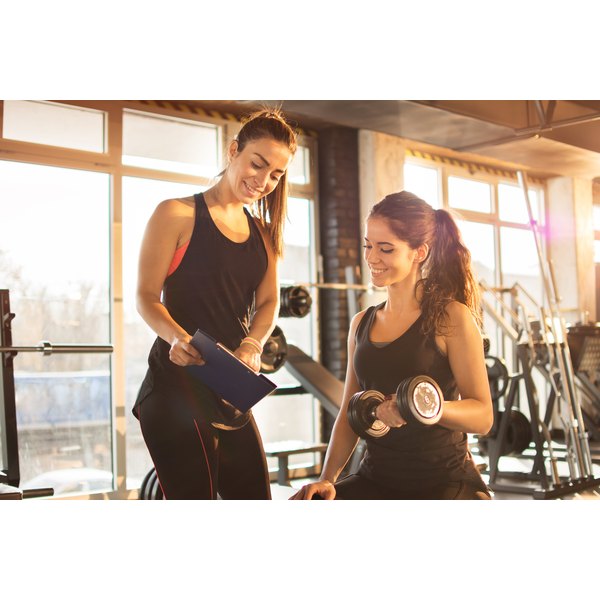 Aerobics and dance instructors are in high demand in gyms, community centers, schools, senior centers and private studios. According to the U.S. Bureau of Labor Statistics, between 2016 and 2026 fitness instructor employment is expected to grow 10 percent, faster than any other occupation. Get started in this promising industry by learning everything you can, getting in great shape and acquiring the proper education and certifications.
Do What You Love
There's no better way to set yourself up for becoming a top-notch dance or aerobics instructor than by attending as many classes as you can. If you're interested in a specific dance or aerobics style -- hip-hop or step aerobics, for example -- become a regular. Learn the moves, perfect your technique and advance to more challenging levels.
If you're not sure what style of dance or aerobics you want to learn, do your research. Go to as many different classes as you can to find out which ones you love and would feel passionate about teaching.
While you're at it, observe teaching styles of your favorite instructors. What do you like about the way they teach? How do you find you learn best? Take notes after each class on what you liked or didn't like and what really stood out to you. Later you'll be able to incorporate those observations when you teach your own classes.
Get in Great Shape
Part of being a successful teacher is being a role model for your students. This doesn't mean you need to be a certain size or shape; it just means you should be fit enough to be able to teach an entire class without pooping out. Students don't want to see their aerobics instructor panting and sweating.
Get in shape through regular exercise, including group classes and strength training. Eat a healthy diet, drink plenty of water and get enough sleep. Be ready to get up in front of your first class radiating health, vibrancy and high energy.
Create Community
Connections will serve you well when you're ready to take on your first class. Make yourself known in the gyms or studios where you want to teach. Become a regular at an area gym, yoga center or dance studio. Form relationships with your teachers and fellow students. Inquire with particular studios about what qualifications they require new teachers to have. Once you have the necessary qualifications, you can approach the gym or studio owners for a job.
Get the Proper Education and Certification
Most gyms require their aerobics teachers to have a group exercise certification from a reputable certification body like the American Council on Exercise (ACE) or the Aerobics and Fitness Association of America (AFAA). Both of these certifying bodies are accredited by the National Commission for Certifying Agencies, the gold standard for program accreditation, according to ACE.
Once you've chosen your certification, you'll need to sign up for the exam, order any necessary study materials and then prepare for the exam. Some certifications may involve attending live classes, but many rely on self-study with multi-media materials. The course is designed to teach you the basics of exercise and physiology, how to choreograph and teach group classes, the specifics of various modalities of group fitness, nutrition and weight management foundations, working with special populations and related business skills. Create a schedule for study so you can be sure to be prepared by exam day.
If you're specializing in a branded fitness class, such as Zumba, you may not need a national certification. Rather, you will need to attend a training specific to the style. Zumba holds teacher trainings around the globe, and there are no prerequisites for attending. Once you complete the training, you will be provided with a certificate of completion that you can present to potential employers.
Dance instructors such as ballet or jazz teachers need to have extensive formal education in their chosen style. A bachelor's or even a master's degree may be required, or equivalent experience as determined by the studio owner. Degrees in dance education help prospective teachers develop the necessary technical, performance and choreography skills. There are different requirements for teaching in a public school versus teaching in a studio, and those requirements may vary by state. Do your research and ask around to make sure you're pursuing the correct education path.