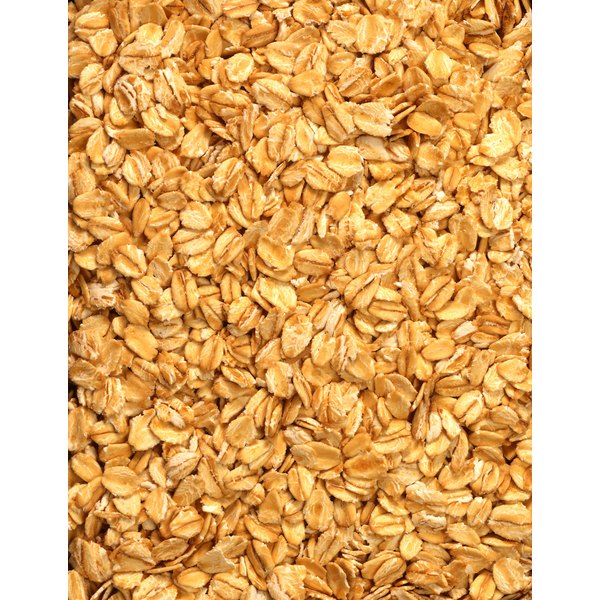 Raw oatmeal mixed with fruit has a long history as a health food. Oats contain the most soluble fiber of any grain, and eating soluble fiber regularly helps reduce bad LDL cholesterol. It also may reduce the risk of heart disease, according to the American Heart Association. Raw oatmeal is much higher in resistant starch -- starch that doesn't digest easily -- than cooked oatmeal.
History
In an early version of raw oatmeal and fruit, Swiss nutritionist Dr. Maximilian Bircher-Benner introduced muesli as a health food in the 19th century. Muesli contains grains and fruits, often including uncooked oats. It has remained popular in Europe and has earned a following in the United States due to its whole, natural ingredients. Muesli often contains nuts, and people usually eat it with milk or yogurt, adding more protein and calcium to to the meal.
Uses
Raw oatmeal combined with fruit works well as a breakfast food, trail mix, camping food and as a carry-along snack for school, work or the gym. With dried fruit, this food travels safely without danger of spoiling, even on warm days. Serving raw oatmeal with fresh fruit creates a satisfying dessert as an alternative to high-sugar, refined flour or high-fat options. Layering oats, berries, peaches and pitted cherries in a parfait glass appeals to the senses, providing a natural treat. Adding yogurt or a nondairy yogurt and cinnamon or nutmeg offers a creamy variation.
Benefits
Oats provide carbohydrates, protein, vitamin E, B1 and B2. The fiber from oatmeal and fruit help promote regularity and healthy digestion. Raw oats with fruit helps satisfy your appetite and maintain steady blood-sugar levels. This can help with reducing calorie intake for weight loss or maintenance. In addition to the soluble fiber in raw oatmeal, the resistant starch has a slow impact on blood sugar. Fruits contain antioxidants, vitamins, minerals and natural sweetness. Like oats, strawberries are a rich source of heart-healthy soluble fiber, according to the American Heart Association.
Considerations
Although oats don't contain gluten, people sensitive to gluten might need to avoid them because they're often contaminated with wheat, which contains gluten. Dried fruits such as raisins, dates, apricots, cherries and prunes contain concentrated fructose. Some people experience stomachaches or diarrhea from consuming more than small amounts of fructose. If you want to lose or maintain weight, pay attention to portion sizes. A half-cup of oatmeal counts as one serving.