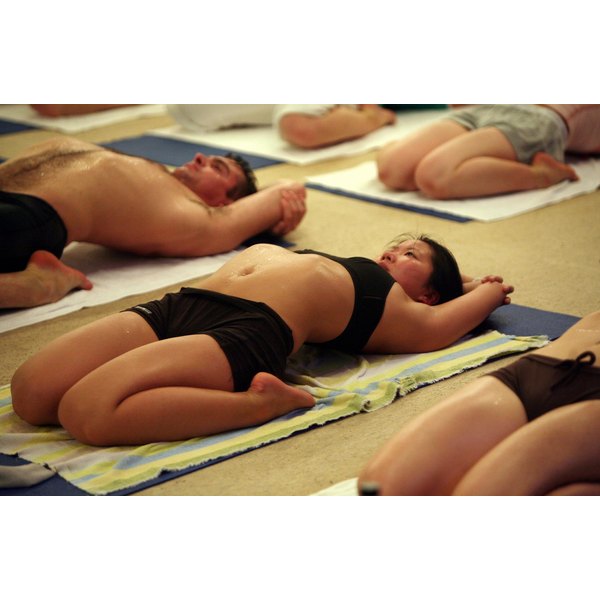 You head to the gym to burn calories and lose weight, but should you enter the jamming cardio dance workout of Zumba or slide into the hot yoga studio?
Zumba and hot yoga both can provide an effective calorie burn, but the exact number of calories you sizzle depends a lot on you. In either class, calorie burn varies according to the intensity and frequency of your participation. Plus, your size contributes to burn -- the larger you are, the more energy your body uses for either activity.
Choose hot yoga if you want to increase your flexibility and strength while burning fat; choose the hot rhythms of Latin dance-based Zumba for more focus on your cardiovascular fitness. You'll likely burn a few more calories during the active Zumba class.
About Hot Yoga
Hot yoga is a generic term for Bikram yoga, a style introduced to the U.S. by India-native Bikram Choudhury in the 1970s. Bikram yogis practice in a room heated to about 105 degrees Fahrenheit with elevated humidity.
Choudhury managed to copyright his series, which consists of 26 postures and two breathing exercises, in 2002 and since then has successfully prevented non-affiliated studios from offering classes under the Bikram name. Thus you may encounter "hot yoga" classes patterned after the Bikram series that use a slightly different series of poses or less heat.
Hot Yoga Calorie Burn
Official Bikram classes are strenuous — yogis attempt to hold some standing poses, such as Standing Bow-Pulling Pose and Standing Head to Knee Pose, for up to 60 seconds, which is supposed to raise your heart rate. The heat of a Bikram studio further increases your heart rate as your body increases circulation to cool itself. But being hot doesn't necessarily mean you burn a ton of calories as is purported by some promoters of hot yoga.
Beginner Bikram classes are always 90 minutes long. Research from the Department of Health and Exercise Science at Colorado State University performed in 2014 showed that the average woman burned 330 calories and the average man burned 460 in this hour and a half.
Every class is different, and you may find yourself sitting out certain postures or taking an "easy day" if you're injured or ill or just dealing poorly with the heat on a given day — in which case, your calorie burn likely will be lower. As a hot yoga practitioner, you can maximize calories burned by holding postures for the full length of time specified by the instructor and by fully engaging the relevant muscles.
About Zumba
Aerobics instructor Alberto "Beto" Perez introduced Zumba Fitness to Miami in 2001. Participants follow instructors through dance fitness routines set to the high-energy Latin rhythms of cumbia, salsa and merengue along with complementary styles such as reggaeton and hip-hop. Zumba instructors may also include traditional toning exercises such as lunges and bicep curls. Zumba Fitness offers specialized classes for older adults and children, water-based workouts, and workouts designed specifically for toning muscles.
Zumba Calorie Burn
A 150 pound person can burn approximately 540 calories in a one-hour Zumba class. As with yoga, your results may vary depending on your age, sex, weight, overall level of fitness and the intensity with which you move your body. You can gauge your level of exertion by your ability to converse during cardiovascular exercise — the more difficult it is for you to speak a full sentence, the higher your heart rate and the more calories you're burning.