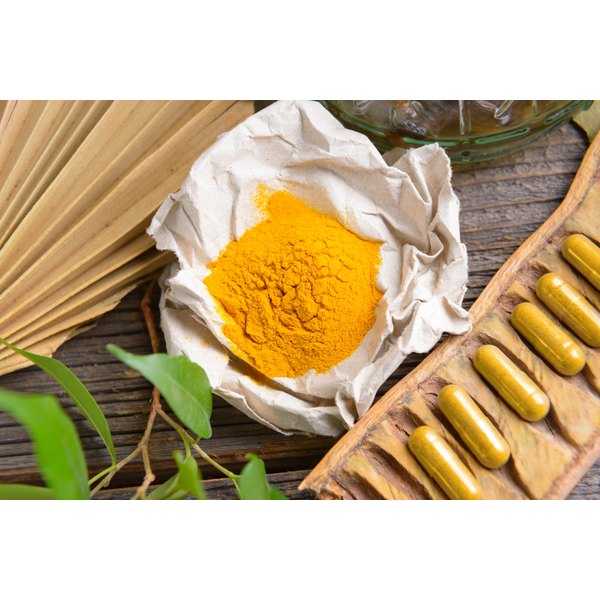 Uterine fibroids are muscular tumors that develop in the wall of your uterus and are usually benign, or non-cancerous. According to WomensHealth.gov, between 20 percent to 80 percent of women develop this health problem before the age of 50. Fibroids, notes WomensHealth.gov, are most commonly experienced by women in their 40s and 50s. To better understand the role of turmeric and other supplements in treating your fibroids, meet with your primary care provider.
Uterine Fibroids
Certain risk factors may increase your risk for developing fibroids. The National Institute of Child Health and Human Development states that women who are overweight or obese are more likely to develop uterine fibroids. African-American women, states the Institute, have a 3 percent to 5 percent greater risk than white women for this health problem. Women who have already given birth actually have a decreased risk of uterine fibroids. Low back pain, pain during sex and reproductive problems are common symptoms associated with uterine fibroids.
About Turmeric
Turmeric, also known as Curcuma longa, is a perennial plant that belongs to the ginger family. The turmeric plant grows wild in forests throughout south and southeast Asia, possesses a thick underground root system and large, oblong leaves and contains important plant chemicals and nutrients. The rhizomes of the turmeric plant are used medicinally and contain curcumin, limonene, vanillic acid, vitamins B-1, B-2, B-3 and C, manganese, calcium and iron. Curcumin is the ingredient responsible for this herb's yellow pigment.
Turmeric Uses
Turmeric has long been used to treat health problems. According to certified nutritional consultant Phyllis A. Balch, author of "Prescription for Nutritional Healing," turmeric -- along with milk thistle, dandelion root and Chinese skullcap -- possesses anti-inflammatory action and powerful antioxidant action that may support your liver and encourage the elimination of toxins from your body. Supplements that help to support your liver also help to clear excess estrogen from your system, which may help to minimize fibroid growth. Further scientific scrutiny may be required to support the use of this supplement for this health purpose.
Warning
Uterine fibroids, though usually not life-threatening, may lead to serious health consequences that require the attention and assistance of a health-care provider. Possible complications associated with fibroids include extreme pain, heavy bleeding, decreased red blood cell count, urinary tract infections, infertility and cancerous changes. Review all procedures, risks and alternatives with your doctor before using turmeric or other supplements to treat your uterine fibroids. The use of dietary supplements does not guarantee a cure or even a favorable health result.