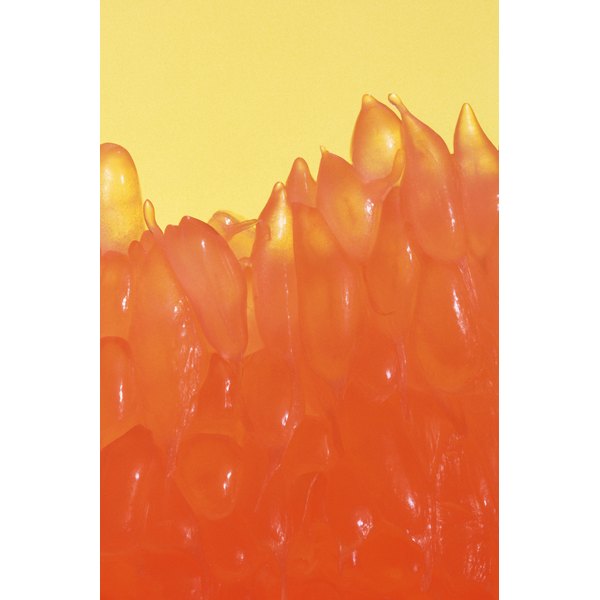 Studies have linked grapefruit and grapefruit seed extract to cancer, both as possibly causing and combating the disease. However, the findings remain preliminary and inconsistent. Grapefruit seed extract poses potentially serious side effects and interactions with some medications, so talk to your doctor before taking it for any reason.
Grapefruit Limonoids and Cancer Inhibition
Liminoids in grapefruit seed extract may inhibit the growth of cancer in the breasts, lungs, stomach, colon and mouth, according to K.K. Mandadi, a researacher at Texas A&M University. Mandadi and colleagues attempted to isolate the contents of limonoids in red Mexican grapefruit seed extract to determine what properties in limonoids possess the highest level of antioxidants capable of fighting cancer cells. Mandadi and team found that the acetone in limonoids from red Mexican grapefruit seed extract possessed the strongest antioxidant abilities, followed by MEOH extract. The results of Mandadi's study were published in "Zeitschrift fur Naturforschung" in March 2007. Limonoids are organic compounds that exist in grapefruit and other citrus fruits. According to the United States Department of Agriculture, some limonoids fight tumors better than tamoxifen, an anti-cancer medication.
Grapefruit and Link to Breast Cancer
Another study found that grapefruit intake may increase the chances of developing breast cancer among postmenopausal women. Kristine Monroe led the joint University of Southern California and University of Hawaii study that linked grapefruit consumption to an elevation in estrogen levels and a 30 percent greater risk of breast cancer, according to the report published in the "British Journal of Cancer" in July 2007. The study did not test grapefruit seed extract, which contains seeds and pulp that remain after juicing a grapefruit. Grapefruit seed extract may contain high or low concentrations of grapefruit, depending on the product.
Study Disproving Breast Cancer Link
According to a University of Oxford study led by Elizabeth Spencer, no correlation exists between grapefruit consumption and breast cancer risk. Spencer's study followed 114,504 women over approximately 9.5 years, in which 3,747 cases of breast cancer developed. Fifty nine percent of the women studied consumed grapefruit. Pre-menopausal and postmenopausal women who consumed grapefruit developed breast cancer no more frequently than women who did not, according to the study published in "Cancer Causes and Control" in August 2009.
Drug Interactions
The link between limonoids in grapefruit seed extract and cancer provides hope but not a compelling reason to add it to your diet. Many grapefruit seed extracts contain added chemicals and preservatives, including a poison called benzethonium chloride that may cause convulsions or lead to comas. If you take medications, combining them with grapefruit seed extract could cause serious interactions. Grapefruit slows your body's ability to metabolize drugs, which could lead to an excessive build-up of medications in your system. The long list of medications known to react adversely with grapefruit includes some types of birth control pills, statins and antidepressants.