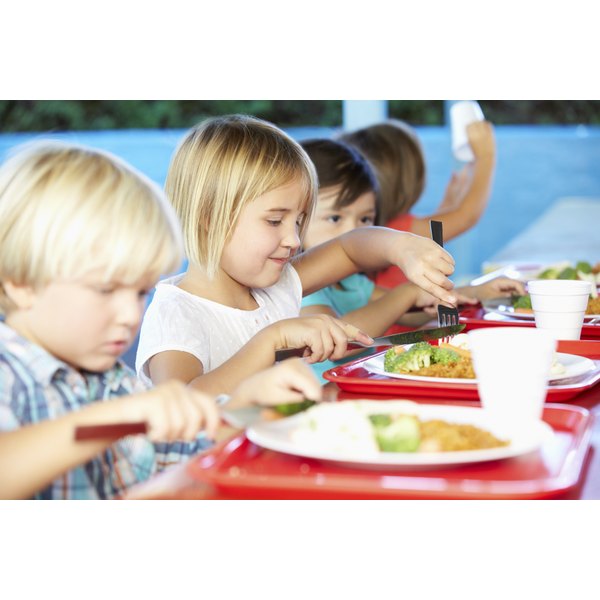 Childhood obesity is a growing problem in the United States. According to the Centers for Disease Control and Prevention, around 12.5 million children and teens are obese. Obesity is caused by several factors, including poor diet. Children spend a lot of time eating snacks, lunch and breakfast from the school cafeteria. Being educated in childhood obesity will assure your child gets the most nutrients out of his elementary school cafeteria food.
Obesity Causes
Several factors contribute to obesity. Eating unhealthy food is one way your child can accumulate added pounds. Elementary school cafeteria food is often mass-produced and chosen for its cost-effectiveness. While this can save the school money, the students suffer from foods high in carbohydrates, high in sugar, low in fiber and lacking in many of the recommended food groups. Excessively eating unhealthy foods in combination with a lack of physical activity creates a recipe for obesity. Underlying medical conditions, such as an underactive thyroid or taking certain medications, can also contribute to obesity.
Typical Meal Options
While many elementary schools are striving to serve the healthiest meals possible to their students, some food options still contribute toward obesity because of their high fat and high calorie count. Breakfast options include high-carbohydrate bagels and English muffins with cream cheese, butter and jelly as condiments. The average-sized bagel is around 275 calories, with 2 tablespoons of cream cheese adding an additional 70 calories and over 7 grams of fat. Lunch menus often feature breaded chicken nuggets, personal pizza, cheese steak sub sandwiches, cheeseburgers, hot dogs, nachos, tacos, spaghetti and twice-baked potato with cheese -- all which have a significantly high calorie and fat count. Some elementary schools have a la carte options in which children can get extra items not included in a regular lunch for an additional cost. A la carte appeals to some kids because the additional options may include a salad bar with high fat toppings, cheese bread sticks, bagged snacks, doughnuts, brownies and candy bars.
Recommended Nutrition
It is important that kids get foods from all of the food groups daily in order to stay healthy. According to Choosemyplate.gov, foods such as whole grains, low-fat dairy, lean meats, vegetables and fruits are essential to good health. These foods are best when they are fresh and unprocessed. Preparing and serving foods from some of the food groups can be challenging in larger schools that are on a budget or unable to have enough staff to prepare foods fresh daily. Eating processed, high-fat foods can lead to weight gain. Over time, excess weight can increase your risk for medical problems such as type 2 diabetes, stroke, heart disease, sleep apnea and certain types of cancer.
Solutions
You can help your child by teaching her how to eat healthy at home, which will make her smarter in the lunchroom. Let's Move explains that educating schools on how to prepare nutritious foods by implementing new techniques and recipes is one step toward fighting obesity. Signing up for a pre-paid lunch program that shares purchase history with parents can help you stay on top of what your child is eating in the elementary school cafeteria. Another option would be to pack your child's lunch with healthful options such as lean turkey on whole-wheat bread, four or five mini-carrots, low-fat string cheese and a small juice box or bottled water.