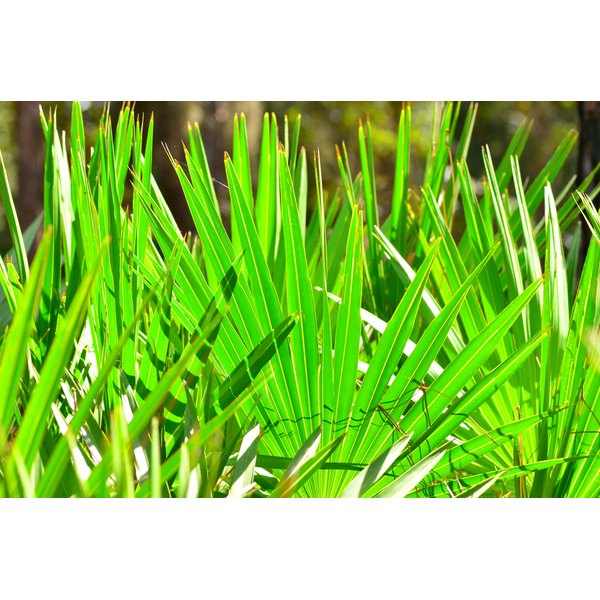 Saw palmetto may be effective for treating an enlarged prostate, also called benign prostatic hyperplasia, or BPH. It can take two months of treatment before seeing improvement, however, and not all clinical trials show that saw palmetto is beneficial, according to MedlinePlus. This herb also is commonly used to treat lower urinary tract symptoms, or LUTS. Despite saw palmetto's popularity, little is known about its potential toxicity, according to a June 2008 "Complementary Therapies in Medicine" clinical trial.
Clinical Trial Conclusions
The "Complementary Therapies in Medicine" trial, which included a detailed safety assessment, found no evidence of serious toxicity due to saw palmetto, according to lead study author Andrew L. Avins, M.D. The trial involved 225 men with mild to moderate BHP. The men received either 160 mg saw palmetto berry extract or placebo two times a day for one year, which equals 320 mg daily of the herb. Due to the trial's short length and small sample size, however, the data collected do not rule out possible rare adverse effects due to saw palmetto, Avins notes.
Animal Study Results
A 2007 animal study in "Phytomedicine" that examined saw palmetto for possible liver toxicity concludes that the herb does not produce any significant adverse effects to the liver. Rats were given 9.14 or 22.86 mg per 2.2 lbs. body weight per day for two weeks or for four weeks. These levels are equivalent to two and five times the maximum daily recommended human dose, notes lead study author Y.N. Singh, M.D.
Rare Adverse Reactions
Overall, in clinical trials adverse effects associated with saw palmetto are extremely rare and generally of mild severity when compared with placebo and the benign prostatic hypertrophy drug finasteride, according to a May 2010 "British Journal of Clinical Pharmacology" report. However, since these trials have a small number of participants – 225 or less – such trials often don't capture rare adverse drug reactions, or ADRs. That makes case reports important, notes lead report author Francesco Lapi, M.D. Lapi reports a case in which a 58-year-old man suffered acute liver damage attributed to saw palmetto. The man was taking the dosage recommended by the manufacturer for BHP, which equals 660 mg berry powder plus 900 mg dried extract. Lapi notes that the suggested oral dose normally is 320 mg daily of dried extract. Report authors examined the product the man was taking and ruled out any contaminants that may have led to the liver damage.
Pancreatitis Case Report
The July 2010 "Southern Medical Journal "also reports a possible case of pancreatitis due to taking saw palmetto. The 65-year-old man who suffered this effect has a history of high blood pressure, diabetes, high triglycerides, gout, chronic gastritis, Barrett esophagitis and occasional alcohol consumption. The man developed pancreatitis after taking 160 mg saw palmetto twice a day for one week. He also was taking numerous medications including aspirin, pantoprazole, ramipril, simvastatin/ezetimibe and glyburide/metformin. One theory is that the man's pancreatitis is the result of saw palmetto's action in inhibiting progesterone receptors and stimulating estrogen receptors, according to lead study author K.A. Wargo, PharmD. This, in turn may cause increased triglyceride levels or induction of a state in which your blood clots more easily which in turn may cause pancreas problems, Wargo notes. Wargo did not disclose the dosage.
Expert Insight
MedlinePlus rates saw palmetto as likely safe for most people, with mild side effects reported. Such side effects include dizziness, nausea, headache, constipation, vomiting and diarrhea. There is not enough information to know whether saw palmetto is the actual cause in the case reports of liver and pancreas damage, according to the experts at MedlinePlus. If you are pregnant or nursing you need to avoid any dosage of saw palmetto. That's because it acts like a hormone, which can be dangerous to your pregnancy. Also avoid it prior to surgery because it slows blood clotting.