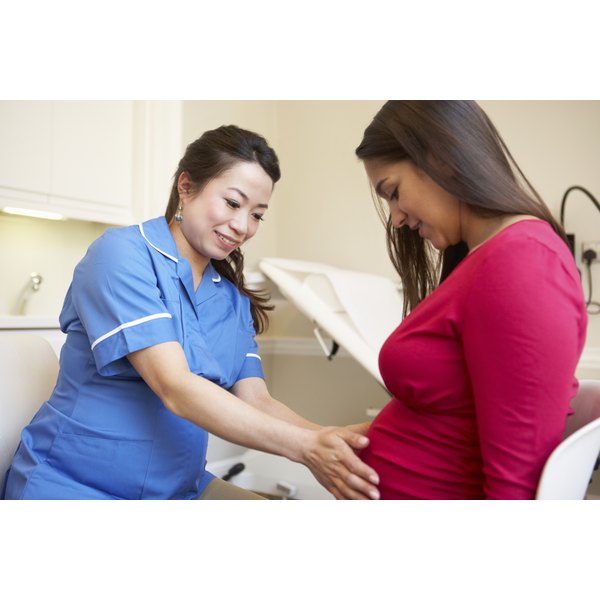 Too much body fat is more than a cosmetic problem — it's also a health problem. Calculated by multiplying your weight in kilograms by your height in meters squared, body mass index is a number used to estimate body fat. While a BMI calculation can't provide specifics on the exact amount of fat on a person's body, the Centers for Disease Control and Prevention reports that there is a direct relationship between an elevated BMI and excessive body fat. A healthy BMI is anywhere between 18.5 and 24.9. Being overweight or maintaining a BMI above 25 can pose serious health risks.
Type 2 Diabetes
There are currently 18 million people living with type 2 diabetes, according to the American Association of Clinical Endocrinologist. The National Institute of Diabetes and Digestive Kidney Disease's Weight-Control Information Network reports that 85 percent of them are overweight. Excess body fat doesn't have to be an automatic sentence to diabetes, though. A 2002 study published in the "New England Journal of Medicine" by the Diabetes Prevention Program found that doing 30 minutes of exercise five days a week and losing between 5 and 7 percent of your body weight may delay or even prevent the development of type 2 diabetes.
Cancer
Excessive body fat has been linked to cancer. According to research published in the "New England Journal of Medicine" in 2003, excess body fat may account for up to 14 percent of all cancer deaths in men and 20 percent of all cancer deaths in women. Losing body fat and achieving a lower BMI can significantly decrease your likelihood of getting cancer.
Stroke
Stroke is the third leading cause of death in the United States, according to the Centers for Disease Control and Prevention. Approximately 137,000 people die of a stroke every year. Being overweight can lead to higher cholesterol levels, high blood pressure and diabetes. These are all stroke risk factors. Losing body fat can help you get cholesterol, blood pressure and blood sugar under control, significantly decreasing your risk of a stroke.
Heart Disease
Too much body fat can also lead to heart disease. Heart disease was the leading cause of death in the United States in 2007, according to findings published by the American Heart Association in its medical news journal, "Circulation" in 2010. High blood pressure, high levels of bad cholesterol and low levels of good cholesterol are all characteristics of people who are overweight. These are also risk factors for heart disease. Losing weight can improve all of these conditions, decreasing your risk of developing heart disease.
Pregnancy Complications
Women who have a high BMI are more likely to have high blood pressure and diabetes during pregnancy, reports March of Dimes. Babies who are born to mothers with weight problems are sometimes born prematurely or need special care after delivery. They are also more likely to be obese as children. Overweight women are more likely to need a Cesarean delivery than women who maintain a healthy weight during pregnancy. Regular medical checkups, a healthy diet and a sensible, doctor-approved workout regimen can help you maintain a healthy weight and decrease your likelihood of complications due to an elevated BMI during pregnancy,