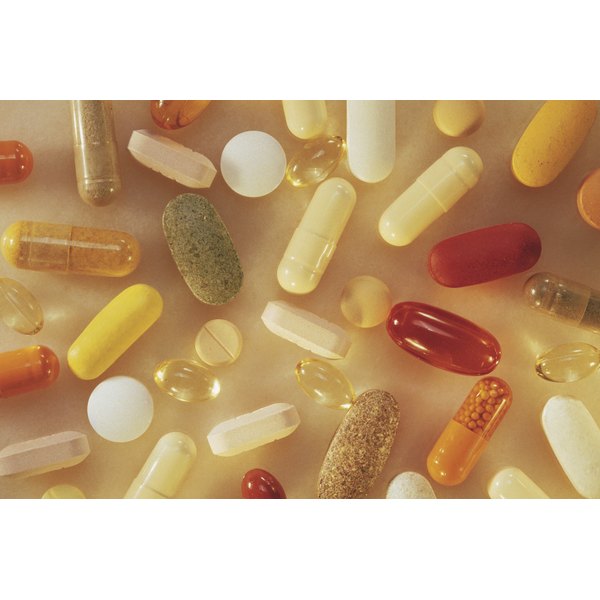 Reducing belly fat can be a challenge, but it has a simple principle – you need to consume fewer calories than you expend each day. You can do this by increasing your activity level, reducing your calorie intake or, ideally, doing both. To lose one pound a week, you need to reduce your diet by 3,500 calories, or 500 calories per day. Eating a diet that is rich in certain vitamins may help your body burn fat more efficiently. Consult a doctor before taking any vitamin or nutritional supplements.
Vitamin A
Vitamin A often links with healthy vision, but the nutrient offers many other benefits, too. Vitamin A is also involved in the production of your skin, teeth and mucus membranes, and it helps keep these tissues healthy. Additionally, research published in the January 2006 edition of the journal "Obesity" found that increased intake of vitamin A encouraged reductions in body fat.
Choline
Choline is a nutrient and part of the B vitamin complex. It performs several important functions, including maintaining the structure of your cell membranes and acting as a precursor for acetylcholine, a neurotransmitter involved in muscle function. Additionally, choline makes phosphatidylcholine, which breaks down body fat, so taking adequate levels of choline can be essential to prevent fat accumulation.
Vitamin C
Consuming vitamin C is crucial because it is involved in the production of collagen, a structural component of your skin, blood vessels, ligaments and other tissues. Vitamin C also helps to maintain cartilage and heal wounds, and research indicates it can help break down fat. Research published in the June 2005 edition of "Journal of the American College of Nutrition" indicates that vitamin C helps your body break down more fat during exercise.
Vitamin D
Vitamin D is an essential nutrient that helps your body to absorb calcium, which can aid in fat breakdown. Research reported in the June 2011 issue of "Nutrition Reviews" indicates that higher levels of calcium encourage weight and fat reduction. In addition, an August 2008 study from "The British Journal of Nutrition" found that vitamin D could also promote body fat reduction.