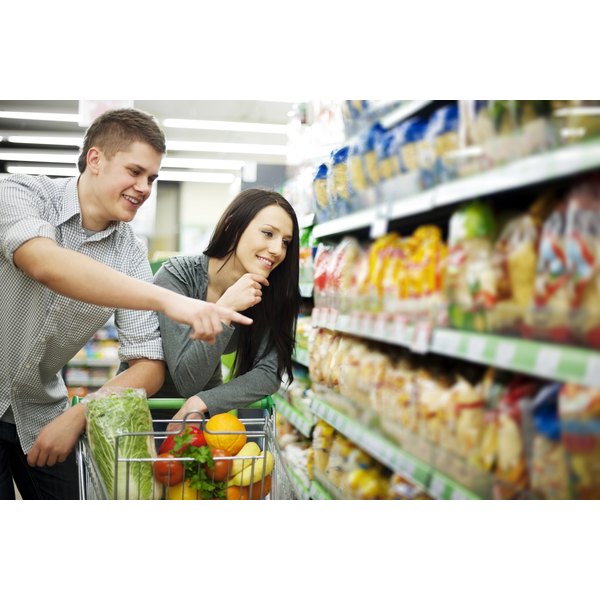 When moving into your first home, you're probably focused on things such as a bed, dresser, couch and television, but you'll also need to hit the grocery store before settling in. If you're a budding chef, you can add any number of exotic ingredients, but you should, at the very least, have a few staples on hand at all times. Add fresh meat, produce and whole grains, and you'll have everything you need to prepare yourself nutritious and tasty meals.
Pantry Nonperishables
A pantry full of staples will give you the base for a tasty and quick meal. Keep items that stay fresh for several months, such as dried whole-wheat pasta, brown rice, couscous, barley, lentils, quinoa and oats. Stock your pantry with low-sugar breakfast cereal, high-fiber granola bars and whole-grain crackers as well. Add low- or no-sodium canned vegetables and canned fruit packed in juice, rather than sugary heavy syrup, so you're able to include plenty of fruits and vegetables in your daily diet. Canned beans, nuts, nut butters, seeds and canned meat, such as tuna, are additional items to keep in your pantry.
Fill Up Your Fridge
In addition to condiments, such as mustard, ketchup, reduced-fat salad dressing and other types of sauces, you'll also need to include fresh foods that supply essential vitamins and minerals. Purchase several different types of fresh fruits and vegetables, such as apples, oranges, berries, melon, leafy greens, carrots, celery and bell peppers, to fill your produce drawers. Eating a variety of colorful produce supplies a wealth of nutrients including fiber, potassium, vitamin A and vitamin C. Include a gallon of low-fat milk, one or two varieties of low-fat cheese and low-sugar yogurt, each of which will add calcium and protein to your diet. Keep a carton of eggs on hand, too.
Stock the Freezer
A freezer is a handy kitchen appliance because it allows you to purchase more food that you can eat before it goes bad, which can benefit your bottom line if you're able to purchase the foods on sale. Stash frozen chicken, ground hamburger and fish in your freezer so you have a meal starter that's rich in protein, iron and zinc. Bags of frozen fruits and vegetables, which are just as nutritious as fresh produce, are another essential item to add to your freezer. Store grain-based products, such as bread, bagels and tortillas, in your freezer, too, because it will keep the food fresh until you're ready to eat it.
Consider These Items, Too
Purchase a few ingredients that will help you whip up a quick meal and store them in the back of your pantry for those days when you just don't feel like cooking. Jarred pasta sauce, low-sodium canned soup and taco shells are a few examples of items that make meal preparation fast and easy. Whole-wheat flour, sugar, baking powder, baking soda and other baking essentials are smart items to keep in your kitchen, too.