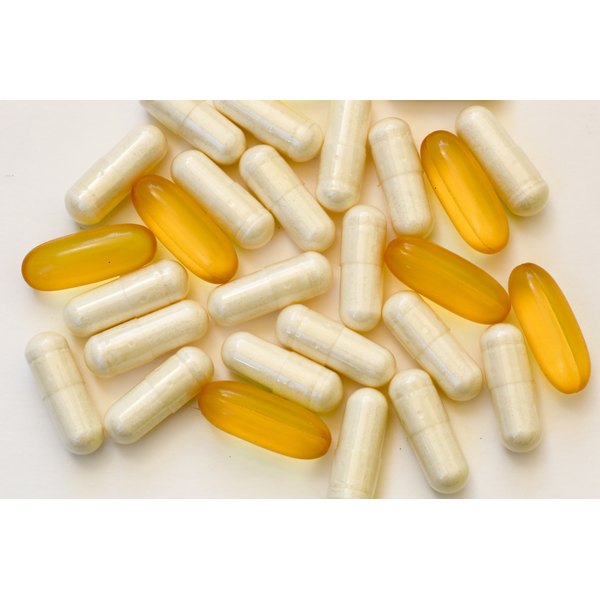 Zinc and copper are trace minerals, nutrients that your body needs in small quantity. Keeping your intake of these minerals at the levels your doctor recommends is important, especially because excess zinc causes copper deficiency. These trace minerals are available from foods and supplements. Take them in pill form only if your physician says you need supplementation. Keep to the dosage she prescribes to maintain an adequate zinc-to-copper ratio.
Standard Ratio
A 15-to-1 zinc-to-copper ratio is the standard in the health-supplement industry, say the authors of a chapter written for "Nutrition in Kidney Disease." According to William Cameron Chumlea and his co-authors, this ratio has "limited effects on copper absorption." Thus, manufacturers of dietary supplements consider it safe.
Copper Deficiency
When levels of zinc are too high, a protein called metallothionein begins to accumulate inside you. As it does, it also attaches itself to copper, preventing your body from absorbing the trace mineral. The resulting copper deficiency manifests itself as anemia, neurological problems and low white-blood-cell count that weakens your immune system.
Specific Zinc Intake
In the United States, the recommended daily dietary allowance for zinc is 11 milligrams for adult males. Adult women should take in 8 mg of zinc daily. The recommendation for individuals up to 18 years of age ranges from 2 to 11 milligrams of zinc depending on the person's age and gender.
Specific Copper Intake
The recommended daily copper intake varies by age group, but not by gender in the U.S. Copper servings are also measured in micrograms, not milligrams. Starting at 19 years of age, you need 900 micrograms of copper daily. From birth to 18 years, individuals require 200 to 890 micrograms of copper daily. The younger you are, the less copper you need.