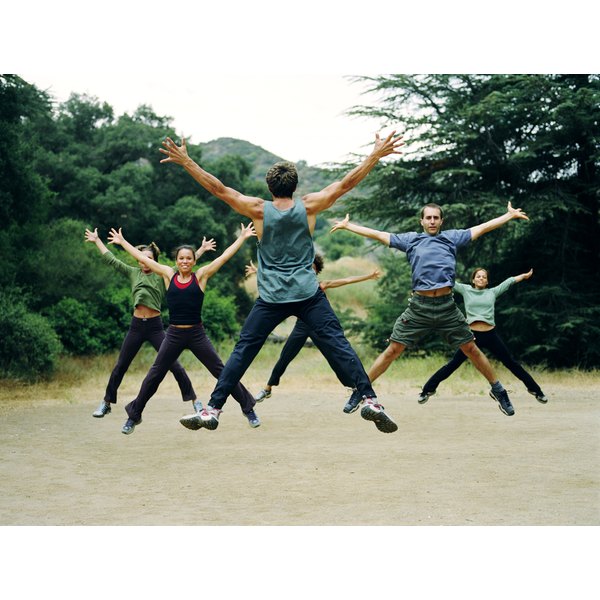 Calories are in every food you eat and drink, and are the basic unit of energy for the body. For every 3,500 calories that you burn, you lose 1 lb. of weight. It is healthier to lose these calories over the course of a few days to a week, because fast weight loss is unhealthy and usually only temporary. If you have your goal set to burn 600 calories a day, be sure to eat enough calories to fuel your workouts and to talk with your doctor before starting the program.
Eat 300 fewer calories per day. Start by reducing your portion sizes by 10 to 15 percent and eat every three to four hours instead of eating three large meals during the day. Avoid foods with more than 400 calories per serving. Eat slowly and stop eating as soon as you stop feeling hungry. Use the nutrition label on food to determine how many calories are in each item.

Choose nutrient-dense foods for your meals and snacks. Nutrient-dense foods are low in fat, sugar and calories but help fuel your activities and exercise with vitamins, minerals and antioxidants. Choose vegetables, whole grains, lean protein, fruits and low-fat dairy products.

Burn an additional 300 calories with exercise each day. According to Harvard Medical School publications, vigorous calisthenics, basketball, cross-country skiing and high-impact step aerobics all burn about 300 calories in 30 minutes for a 155-lb. person. Work at a moderate pace that makes you sweat but does not stop you from being able to carry a conversation.

Integrate physical activity into more of your daily actions. Park farther away in parking lots, take the stairs instead of using the elevator or escalator and walk around the house while you are using the phone. Find any excuse you can to be active.

Add strength training to your weekly routine to build muscle mass and help you burn calories quicker throughout the day. Aim for two weekly sessions that target your entire body with eight to 10 exercises. One set of eight to 12 repetitions for an exercise is plenty to see results.