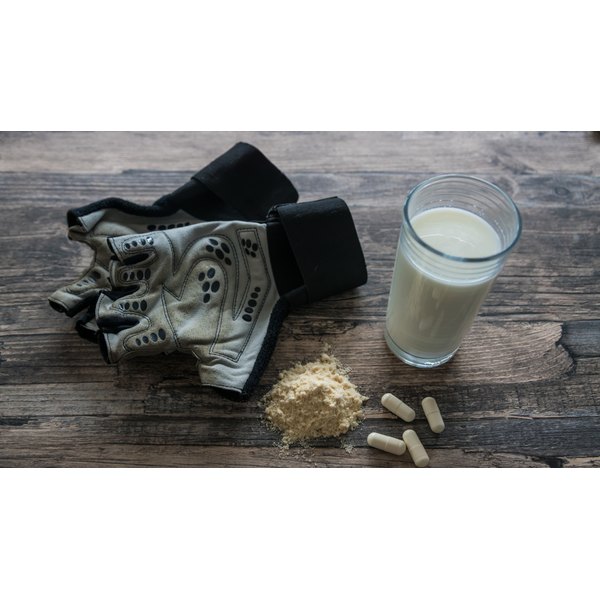 Proper nutrition is vital to meeting your fitness goals while on P90X. In addition to butt-busting strength training and cardio routines, the home-workout program also includes a nutrition plan with varying proportions of carbohydrates and protein in each of the plan's three phases.
Use of the P90X Performance Recover Formula is optional but suggested. It contains a mix of ingredients that may boost performance and aid recovery for better results.
Protein Mixture
Protein provides the body with the raw materials it needs to build and maintain lean muscle mass, and post-workout is when the muscles need it most. Each 35.5-gram serving contains 20 grams of protein, including a combination of whey protein, pea protein isolate and micellar protein.
The formula also includes branched-chain amino acids, or BCAAs. Amino acids are the building blocks of protein, and the branched chain aminos leucine, isoleucine and valine are especially important for muscle building.
Other Active Ingredients
As part of the "muscle recovery blend," the P90X performance recovery drink includes pomegranate and quercetin. Pomegranate is referred to as a "super fruit," and has several potential benefits for sports performance and recovery.
According to a study published in PLoS One in 2016, elite weightlifters who supplemented with pomegranate juice showed improved markers of recovery after an intensive training session.
Quercetin is a phenolic compound found in pomegranate and other fruits and vegetables. It exhibits high antioxidant activity that may help reduce inflammation and oxidative stress caused by intense exercise.
Flavoring Ingredients
P90X contains beet sugar and stevia leaf to provide sweetness. The orange flavored-supplement contains natural orange flavoring, and the chocolate version contains cocoa powder and natural chocolate flavor.
Both flavors contain small amounts of natural ingredients use as preservatives, thickeners and colorings including potassium citrate, sodium citrate, sodium chloride, xanthan gum and annatto extractives.
Nutritional Content
One scoop of the performance recovery drink contains 130 calories, five of which come from fat. The total fat content is 0.5 grams and 10mg of cholesterol. Total carbohydrate content is 10 grams, with 7 grams of sugars.
In addition to the 20 milligrams of protein, you'll also get 110 milligrams of calcium, 0.6 milligrams of iron, 150 milligrams of sodium and 130 milligrams of potassium. If you mix the powder with juice or milk, or use more than one scoop, the nutritional information will change accordingly.