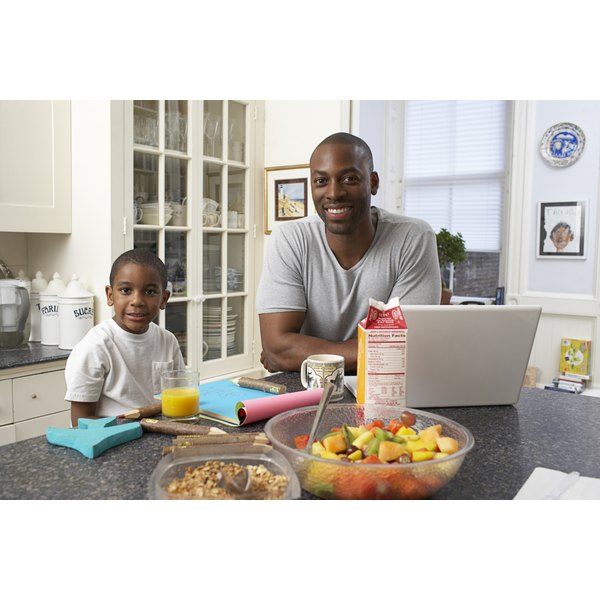 A glass of orange juice in the morning with breakfast is a tradition for many Americans. It has become the perfect supplement to cereal, fruit, yogurt or toast. Orange juice has also become a popular, yet unproven, remedy for fighting colds because of the high Vitamin C content. While orange juice is packed with healthy vitamins, you must be aware of its high sugar content as well.
Tip
Orange Juice has 46 Calories and 0.85 g of Protein per 100 gram serving according to the nutrition facts provided by the USDA Food Composition Database.
Serving Size
When analyzing nutritional information, you should always be aware of the serving size. A serving size of orange juice is 8 oz., or 1 cup. If you consume more, you have to multiply all nutritional information by the number of cups you drink.
Calories
The caloric content of orange juice can vary between 50 calories in Tropicana 50 to 225 found in Jamba orange juice. However, most have a calorie content between 100 and 150. If your goal is to lose weight, then remember that a 500-calorie-per-day deficit is necessary to lose one pound per week. Replacing your morning glass of orange juice with water can be a practical change to reduce your caloric intake.
Carbohydrates, Protein and Fat
Carbohydrates in orange juice are in the form of simple sugars, which tend to increase your blood sugar levels rapidly, then decrease blood sugar levels just as quickly. This may give you quick energy after consumption, but will result in a quick drop in energy soon after. Raw orange juice has 21 grams of sugar, while others can have up to 50 g. Oranges are full of fiber, which is reduced to zero in juice. There are 2 to 3 grams of protein per serving and no fat in raw orange juice.
Vitamins
Orange juice is a good source of healthy, natural vitamins. These include vitamin A and vitamin C. Vitamin A plays a role in vision, skin health, immune function and is a powerful antioxidant. Vitamin C is important for bone health and is also an antioxidant. While Vitamin C is thought to have effects on reducing the incidence and duration of colds, this has not been proven. The Cochrane Database concludes that "the failure of vitamin C supplementation to reduce the incidence of colds in the normal population indicates that routine mega-dose prophylaxis is not rationally justified for community use. But evidence suggests that it could be justified in people exposed to brief periods of severe physical exercise or cold environments."
Summary
A sweet and satisfying glass of orange juice is healthy when consumed in moderation. An alternative to increasing the fiber content is to juice or blend a fresh orange. So enjoy a glass of orange juice with breakfast, but be aware of its high calorie and carbohydrate content and its overstated effects on improving cold symptoms.