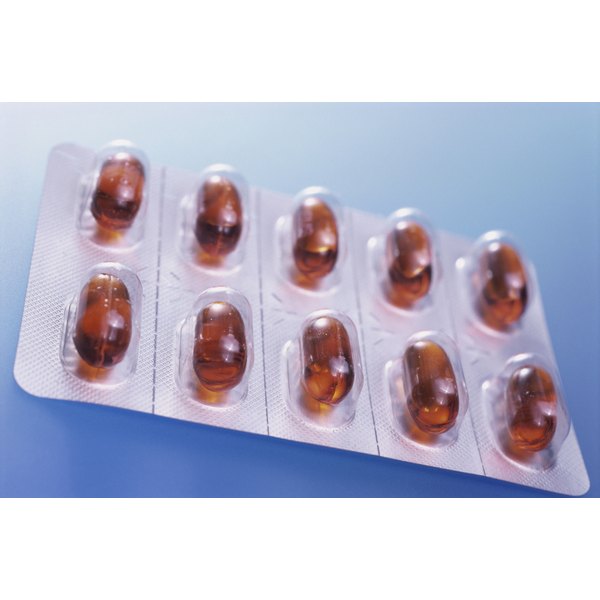 One-a-Day is a brand name multivitamin sold over-the-counter in most grocery stores and pharmacies. This multivitamin is formulated for men and women to take once per day and contains a mixture of vitamin and minerals. Some people experience side effects such as nausea when taking One-a-Day vitamins.
Identification
One-a-Day brand multivitamins, are a daily multivitamin used to supplement nutrition in women and men. One-a-Day provides vitamin combinations for pregnant women, women in menopause, active women and men, men's general multivitamins, women's general multivitamin and a formula for seniors.
Common Side-Effects
According to the Drugs.com website, multivitamins may cause side-effects such as stomach upset or headache. However, according to the Consumer Search website One-a-Day women's multivitamins may cause nausea if taken on an empty stomach. To minimize the risk of developing nausea while taking women's One-a-Day multivitamins, take the vitamin after you eat or with a drink. If you experience nausea when taking any other One-a-Day supplement and it is not listed on the leaflet as a common side effect, consult a physician or pharmacist about changing your multivitamin brand.
Safety
Taking more than the recommended daily allowance of One-a-Day vitamins may result in vitamin toxicity. One-a-day multivitamins contain fat-soluble vitamins A, D, E and K, if these vitamins are taken more than once per day you may develop symptoms such as nausea, vomiting, headache, stomach upset or blood in the stool; these are symptoms of multiple vitamin oversdose. If you take more than the recommended amount of vitamins contact your physician immediately, even if no symptoms are present.
Considerations
If you feel you're not getting enough vitamins from your current diet or that your multivitamin is not doing enough, consult your physician about taking additional supplements. Some vitamins and minerals have an upper limit, which is used to determine the highest safe amount of vitamin you can take without falling into a toxicity level. However, taking a vitamin in its upper limit for an extended amount of time may result in toxicity.