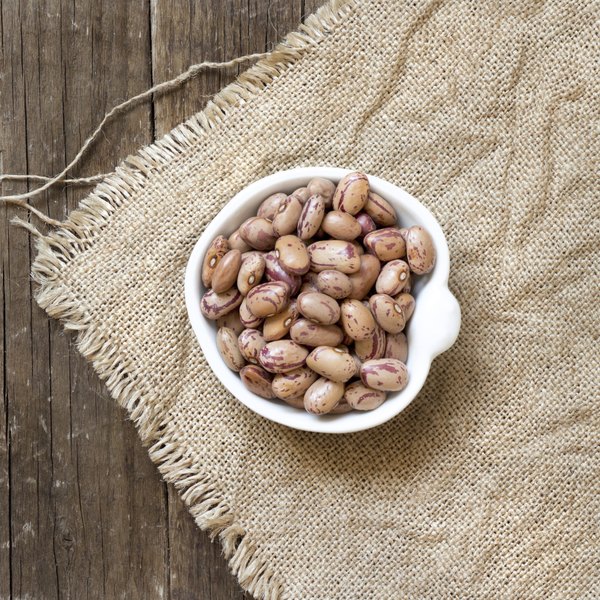 Dietary fiber plays an important role in your health, maintaining digestive regularity and preventing constipation. Soluble fiber, a form of fiber that forms a gel in your stomach, also helps control the absorption of cholesterol, a type of fat. The fiber absorbs cholesterol within your digestive system, blocking your body from absorbing the fat and lowering your overall blood cholesterol levels. There are several foods rich in soluble fiber that help your body block the absorption of some fat.
Rolled Oats
One of the foods you can consume to block fat absorption is rolled oats, or oatmeal. Oats contain high amounts of dietary fiber, as well as relatively large amounts of fat-blocking soluble fiber -- approximately 1.3 g of soluble fiber per 1/3 cup uncooked oatmeal. The United States Department of Agriculture recommends consuming oatmeal at least once a week to boost your fiber intake, which in turn helps control your blood cholesterol. You can also boost the fat-blocking fiber content of your meal by topping the rolled oats with fruits high in soluble fiber.
Legumes
Another type of food you can consume to increase your soluble fiber intake are legumes, such as beans or lentils. All of these foods provide a source of both soluble and insoluble fiber and can therefore increase your cholesterol excretion. Go Ask Alice lists kidney and pinto beans as particularly high sources of fat-blocking fiber, with a half-cup serving of each bean containing 2.0 g of soluble fiber.
Fruits and Vegetables
You can also increase your fat-blocking soluble fiber intake by consuming fruits and vegetables. These foods should form the basis of a healthy diet -- nine half-cup servings of veggies and fruits daily. Oranges, apples, grapefruit, Brussels sprouts and broccoli all provide a rich source of soluble fiber, though most fruits and vegetables contain some of the fiber.
Intake Recommendations
You should consume several grams of soluble fiber each day to effectively control blood cholesterol, as well as to reap the other benefits of fiber intake. Adults between the ages of 19 and 50 should consume at least 25 g of total fiber daily, while adults over age 50 require 21 g daily, according to Colorado State University. Reaching this fiber intake via consuming a range of healthy foods ensures you reach your target consumption of fat-blocking soluble, as well as insoluble, fiber.