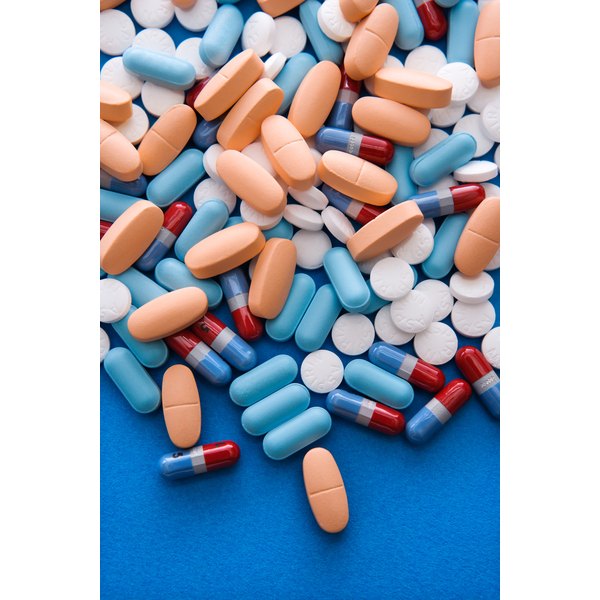 Children, teenagers and young adults are more likely to become suicidal using an antidepressant than who do not use antidepressants as a treatment for depression, MedlinePlus reports. The antidepressant Prozac's link to suicide ideation can cause patients to look into alternative supplements to treat depression. A promising supplement to help symptoms is fish oil. Fish oil contains eicosapentaenoic acid and docosahexaenoic acid, two omega-3 fatty acids. Halibut, salmon, cod liver and mackerel are some of the fish that contain these beneficial omega-3 fatty acids.
Prozac
Prozac, also known as fluoxetine, is medication used for treating depression, obsessive-compulsive disorder, panic attacks and eating disorders. Prozac is a selective serotonin reuptake inhibitor; it increases the amount of serotonin in the brain to improve mental balance in patients who have low serotonin. According to MedlinePlus, it may take up to five weeks or longer to benefit from Prozac treatment. Stopping treatment abruptly can cause withdrawal effects such as agitation, irritability, dizziness, anxiety and headaches. Short-term side effects such as dry mouth, weakness, excessive sweating and change in libido are common with Prozac.
Depression, Fish Oil and Antidepressants
Depression is an illness that leads to emotional and physical symptoms, which include low libido, insomnia, thoughts of suicide, irritability, sadness and difficulty concentrating. A randomized, double-blind, placebo-controlled study published in the March 2005 "Prostaglandins, Leukotrienes, and Essential Fatty Acids" found that fish oil taken with an antidepressant was useful for depressive patients.
Fish Oil vs. Placebo
According to research published in the June 2010 issue of "The Journal of Clinical Psychiatry," omega-3 found in fish oil helps reduce symptoms of depression. In the study, more than 400 patients took part in a double-blind study for eight weeks, and the psychiatrist and researchers concluded the omega-3 found in fish oil was more effective in treating depressive symptoms than the placebo. The study also reported there was a clear benefit to depressive patients without comorbid anxiety disorders who took omega-3.
Prozac and Fish Oil Dosage
Prozac capsules are available in 10 mg, 20 mg, 40 mg and 90 mg; for depression, the standard dosage is 20 mg although this may vary depending on the severity of your condition. Dr. Daniel Hall-Flavin of MayoClinic.com says 100 to 300 mg of either EPA or a combination of EPA and DHA found in fish oils can help treat symptoms of depression. Hall-Flavin makes clear the best dose of fish oil is not clear; therefore, consult your doctor before using fish oil supplements with your standard medication.