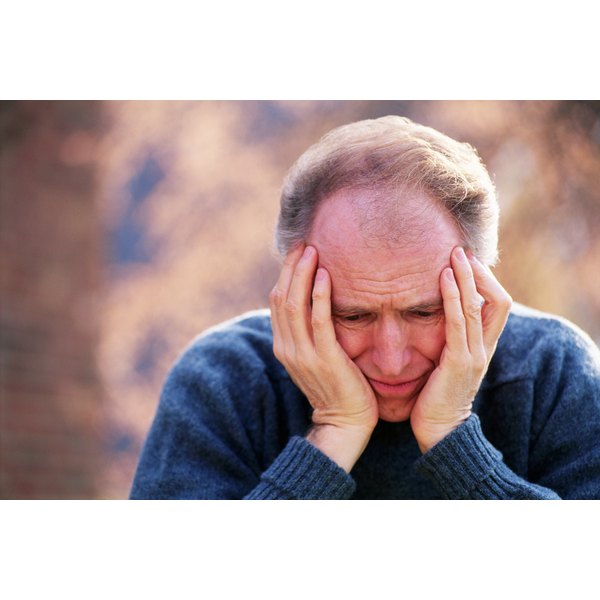 The Washington University School of Medicine reports that an estimated 17.5 million individuals in the United States are affected by depression in some degree, and women are two times more likely to suffer from depression than men. While depression sufferers may feel they are not leading the fullest life possible, 80 percent of individuals who sought some form of treatment for clinical depression found a reduction in symptoms and experienced a significant improvement in their daily lives. Depression treatments vary; however, proponents of vitamin E for depression claim this essential vitamin may help reduce the severity of depression symptoms.
Purpose of Vitamin E
Vitamin E is a fat-soluble vitamin found in your body to prevent the development of the ROS chemical through its concentrated antioxidants. As your body converts food to energy, oxygen is released. When oxygen comes in contact with free radicals, reactive oxygen species, or ROS, is formed. The National Institutes of Health Office of Dietary Supplements states ROS is capable of causing damaging effects on the cellular level. The antioxidant quality of vitamin E works to counteract the potential damage caused by free radicals and ROS, and it is suggested vitamin E may help to prevent or offset the development of certain chronic diseases linked to free radicals. It is suggested through in vitro cell studies that vitamin E also supports healthy immune system function, gene expression, cell signals and hinders blood platelet aggregation. Vitamin E is stored in the liver and is measured through serum concentrations.
Scientific Findings
The "Journal of Affective Disorders" outlines a study performed by the Clinical Research Center for Mental Health in Antwerp, Belgium, that found patients suffering from major depression had lower vitamin E serum concentrations than those without major depression. The researchers hypothesize that those with major depression may be suffering from an increase in lipid peroxidation due to a lack of antioxidants. While these findings raise debate in the scientific community, another study performed by University of Wollongong Smart Foods Centre also found reduced vitamin E serum concentrations in depression patients, yet suggested a lack of vitamin E through dietary sources may be the cause of low vitamin E levels.
Dosage Recommendation
Discuss the dosage of vitamin E for depression with your physician. The National Institutes of Health Office of Dietary Supplements suggests adult men and women aged 19 and older should not consume more than 1,000 mg of vitamin E per day. Never consume high doses of vitamin E without the direct consent of your physician, as prolonged high intake of this vitamin may cause adverse health reactions.
Warnings
Vitamin E supplements may cause adverse drug interactions when taken alongside certain medications, such as antiplatelet and anticoagulant medications. Supplementing with vitamin E while undergoing radiotherapy or chemotherapy may lower the effectiveness of these treatments. Discuss the use of vitamin E with your physician if you are currently taking any medications or undergoing any form of medical treatment. Research suggests that the highest risk level of adverse side effects stems from vitamin E supplements, not from consuming this vitamin through dietary sources.