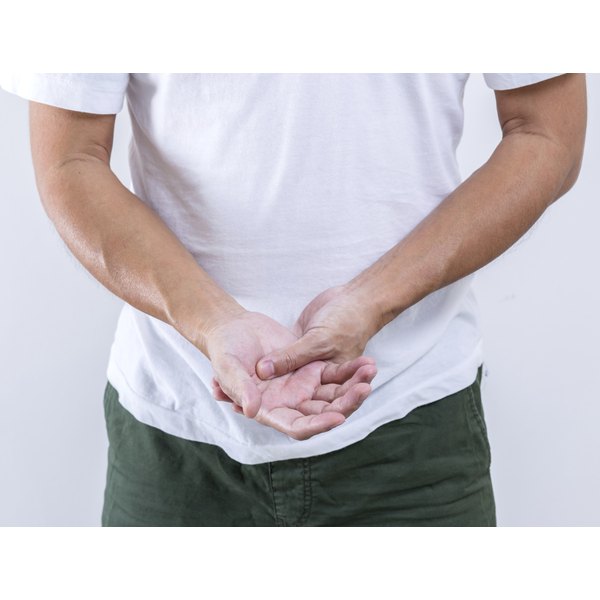 Biotin Forte is a dietary supplement that purportedly helps you metabolize fats and proteins as well as convert carbohydrates into energy, Integrative Therapeutics reports. Biotin Forte contains 5 mg of biotin, 100 mg of vitamin C, 10 mg each of thiamin and riboflavin, and 40 mg of niacin. It also has 800 mcg of folic acid, 10 mcg of vitamin B12 and 10 mg of pantothenic acid. Despite claims to the contrary, Biotin Forte can cause side effects, such as hives.
Dosage and Claimed Benefits
The amount of biotin in Biotin Forte is higher than the recommended adult dose of 30 mcg for biotin, notes the University of Maryland Medical Center. The recommended daily dose of biotin varies according to age. Newborns only need 5 mcg of biotin daily. Children need between 8 mcg and 20 mcg as they age from 1 to 13. Adolescents and young adults between the ages of 14 and 18 need only 25 mcg of biotin. Biotin Forte purportedly helps maintain levels of high-density lipoproteins, or HDL, Integrative Therapeutics claims. The supplement is also supposed to help keep your cardiovascular system healthy. Consult your doctor before using Biotin Forte. This will lower your risk of experiencing any potential side effects, but it will also help you evaluate its actual effectiveness compared with other multivitamins and dietary supplements.
Side Effects
Although side effects associated with Biotin Forte are generally considered rare, it can cause side effects, such as nausea and stomach upset, notes Drugs.com. One way to lower your risk of experiencing side effects from taking Biotin Forte is to eat prior to taking your dose. Although biotin supplements are generally considered safe, always follow instructions for proper use, and discontinue use if you experience adverse reactions.
Allergic Reaction
Allergic reactions to vitamin and dietary supplements such as Biotin Forte are not uncommon. Signs of an allergic reaction are itching, hives and tightness in your chest, Drugs.com indicates. Typically, you may have difficulty breathing, and areas of your face are likely to swell. Seek immediate medical attention should you experience any of these symptoms. Although generally rare, severe allergic reactions are potentially fatal unless treated immediately.
Possible Interactions
Certain medications, such as long-term antibiotics, can lower biotin levels because they destroy the intestinal bacteria responsible for synthesizing biotin in your body, the University of Maryland Medical Center reports. Long-term use of anticonvulsant medications, such as carbamazepine, phenobarbital and phenytoin, can also lower your biotin levels.