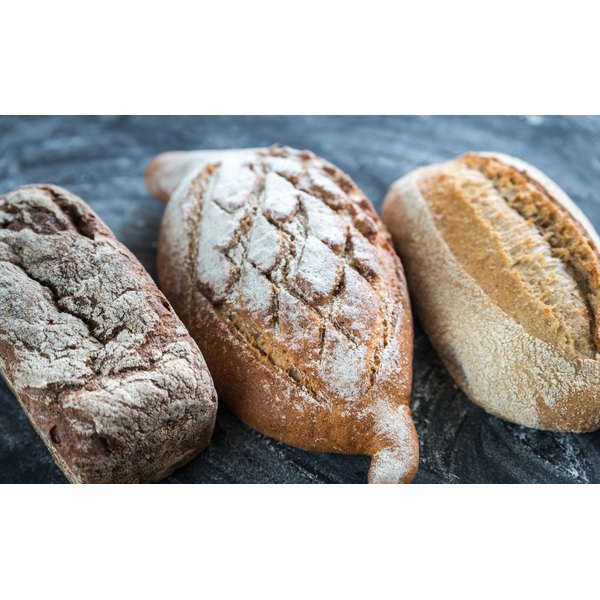 The Nutrition Almanac by author and nutritionist Lavon J. Dunne states that it is desirable to convert from white flour to whole wheat flour because whole wheat flour has 60 percent more fiber and vitamins than white flour. Whole wheat flour is also broken down more slowly by the digestive system, which reduces blood sugar destabilization. Converting to whole wheat flour may be most effective when implemented gradually due to differences in texture and taste that can take some getting used to. Once the rich, nutty flavor of whole wheat has become more familiar, you may find that it is preferable to the bland, pasty texture of white flour.
Substitute whole wheat flour in baking recipes in 1/4 cup increments. As you grow accustomed to the hearty flavor of whole wheat, you can increase the amount of whole wheat flour until you have 100 percent whole wheat.

Reduce the percentage of flour in baking recipes by 1/4 cup when using 100 percent whole wheat flour. Whole wheat flour is more dense than white flour, which will lead to a heavier texture, but that factor is remedied by the increased flavor you'll have.

Increase baking powder or baking soda by 1/4 tsp. when using whole wheat flour in baked goods.

Substitute natural sweeteners, such as honey, molasses or agave nectar, which are highly compatible with the nutty flavors of whole wheat baking. You can use sugar as called for in recipes, but to increase healthful baking, choose unrefined sugar over bleached. According to The American Diabetes Association, using natural sweeteners may reduce or eliminate blood sugar spikes associated with refined, processed sugar.

Tip

Any baked good, including cakes, cookies, breads, tortes and scones, can be appealing with whole wheat flour. Replacing white flour with whole wheat enables you to create desserts and breads that offer substantial health benefits to your family, such as lowered blood pressure, a reduction in the risk of certain cancers and lowered cholesterol.

Making a switch from white to whole wheat flour may take some getting used to, but if a consistent effort is made, the whole family will adapt readily, according to The Nutrition Almanac.

Warnings

People allergic to wheat or gluten products should not eat baked goods made with whole wheat flour. Brown rice flour infused with xanthan gum and ground almond flour is a comparable substitute for those who are sensitive to wheat. Consult with your doctor if you suspect that you have a wheat allergy.