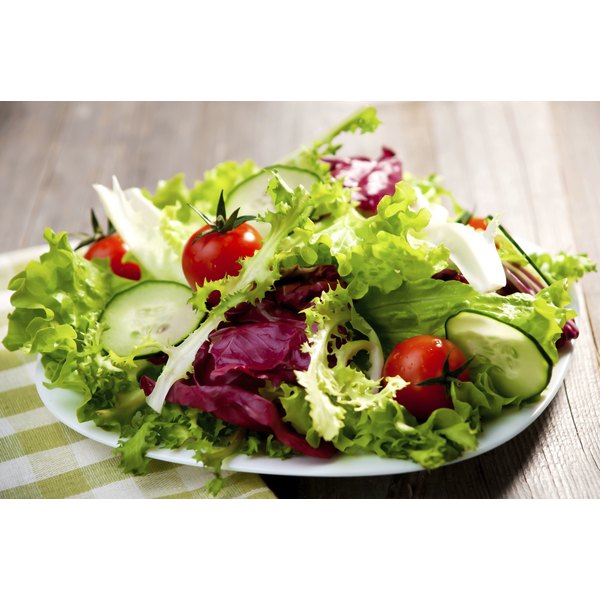 The 6-Day Diet is a six-week fitness plan. The diet features a 6 Day Express food plan that comes with the workout program and can be used to supplement the workouts or as an independent diet. Fitness expert Debbie Siebers created Slim in 6 to reshape your body in six weeks, using a combination of mild resistance training and cardio to slim and strengthen the entire body. The program emphasizes exercises for the thighs, buttocks and abdomen, three common problem areas for many women dieters.
Function
The 6-Day Express Diet Plan serves as the dieting component of Slim in 6, establishing meal guidelines to achieve proper nutrition and weight loss. Following the diet may accelerate the results of Slim in 6 or assist in weight loss independent of the program. The diet plan addresses immediate weight-loss goals, helping individuals shed pounds quickly for an upcoming event or special occasion. The plan claims to help you lose 6 lbs. and 6 inches in just six days, according to Diets in Review.
Features
Unlike many diets, The 6-Day Express Diet Plan offers three distinct plans to meet your individual needs. Plan 1, called Get in the Zone, takes a moderate approach to weight loss, presenting a healthy, balanced diet suitable for new dieters. Plan 2, High-Protein Express, stresses high-protein, low carbohydrate meals to force the body to burn stored fat for energy. Plan 3, Fit-for-a-Minute, takes dieting to the extreme, providing a highly restrictive diet for those looking to lose weight as quickly as possible, making it ideal prior to photo shoots or bodybuilding competitions. All three plans restrict calories, with calorie intakes ranging from 1,100 to 1,600 per day.
Foods
The 6-Day Express Diet focuses on lean proteins, leafy green vegetables and other low-glycemic foods. Each plan restricts calories while stressing high protein and low carbs, attempting to fuel the body with enough nutrients for rapid weight loss. The diet allows 4 oz. of meat for breakfast and recommends a leafy green salad each day for lunch, with the salad including fresh vegetables such as carrots, cucumbers and romaine lettuce. Sliced chicken breast can be added to salads for additional protein.
Benefits
The 6-Day Express Diet Plan teaches not only what to eat but instructs on the proper times to eat, how much to eat and when to work out. The plan also explains the importance of protein shakes and nutritional supplements, focusing on the safest, healthiest methods to achieve weight-loss success. The diet plan also offers additional support through online forums, a motivational calendar, diet tips and detailed nutrition charts and booklets.
Considerations
Due to its highly restrictive nature, The 6-Day Express Diet Plan can aid with quick weight loss but shouldn't be followed as a long-term weight loss strategy. Once you quit the program, any lost weight will often return unless you continue to monitor your caloric intake and exercise regime. The diet program doesn't include any diet pills, fat burners or appetite suppressants.