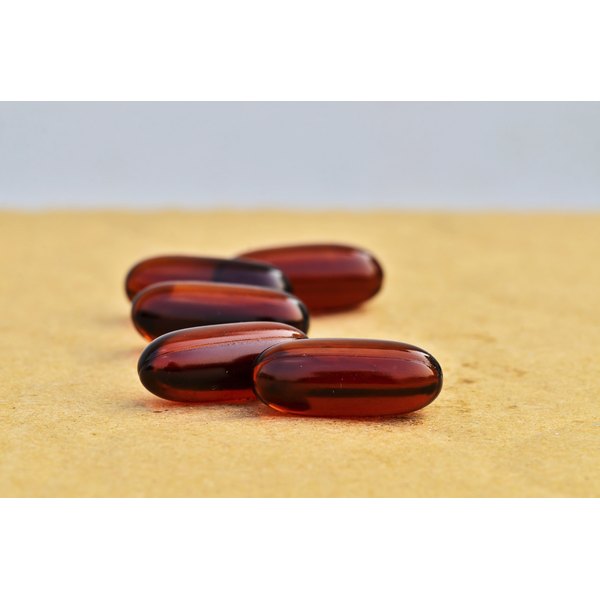 There are three main reasons explaining why krill holds promise for alleviating ADHD symptoms. The first is because krill contains the omega-3 fatty acids docosahexaenoic acid and eicosapentaenoic acid; both DHA and EPA have been studied for attention deficit hyperactivity disorder benefits. The second is the chemical structure of krill versus fish oil omega-3s, and the third is the composition of the human brain. However, the research regarding krill oil's benefits on ADHD are not conclusive, and it's important that you seek the advice of your doctor about possible supplementation.
Omega-3s
There are dozens of peer-reviewed scientific studies investigating the possible benefits of omega-3 fatty acids for alleviating ADHD symptoms. However, most peer-reviewed studies have tested omega-3s sourced from fish, rather than krill. Researchers reporting in the April 2004 issue of "Prostaglandins, Leukotrienes and Essential Fatty Acids" analyzed the major clinical trials and concluded that 560 mg per day of combined DHA and EPA from fish for four months can produce behavioral improvements in children. In adults, 2,400 mg produced improvements in just 35 days. Conversely, DHA supplemented in isolation from EPA had no effect.
Krill Versus Fish Oil
Krill oil came into the media spotlight due to claims that it is a superior source of omega-3s. According to researchers reporting in the February 2007 issue of "Nutrition Reviews," the primary reason is because krill omega-3s are in the form of phospholipids while fish oil omega-3s are in the form of triglycerides. The form your body uses is phospholipid so krill fatty acids are more readily absorbed. In addition, krill naturally contains potent antioxidants including astaxanthin, vitamin E and canthaxanthin. Krill further contains phosphatidylcholine and vitamin D, which are important nutrients for your brain.
Brain Structure
The brain is the fattiest organ of your body and is composed of approximately 60 percent fats. Researchers reporting in the March 2005 issue of the "Indian Journal of Pediatrics" explain that at birth, the brain weighs about 70 percent of its adult weight, and that 15 percent of growth occurs during infancy. The balance is completed by age 6. DHA is the predominate structural fatty acid and it forms 80 percent of your cerebral cortex, which is responsible for attention and impulse control. Omega-3s are crucial for brain development, and this explains why scientists have studied them for ADHD benefits.
Krill and ADHD
A search on PubMed, the medical library database maintained by the National Institutes of Health, produces a handful of peer-reviewed journal articles describing krill's health benefits, none of which is specific to ADHD. However, Neptune Technologies, a krill-processing plant, published a press release in January of 2007 announcing the completion of its privately funded trial studying krill oil's ADHD benefits. Twenty-five adult ADHD patients were supplemented 500 mg of krill oil for six months. The researchers reported improvements in concentration including a 50 percent improvement in patients' planning skills and a 48.8 percent improvement in social skills.