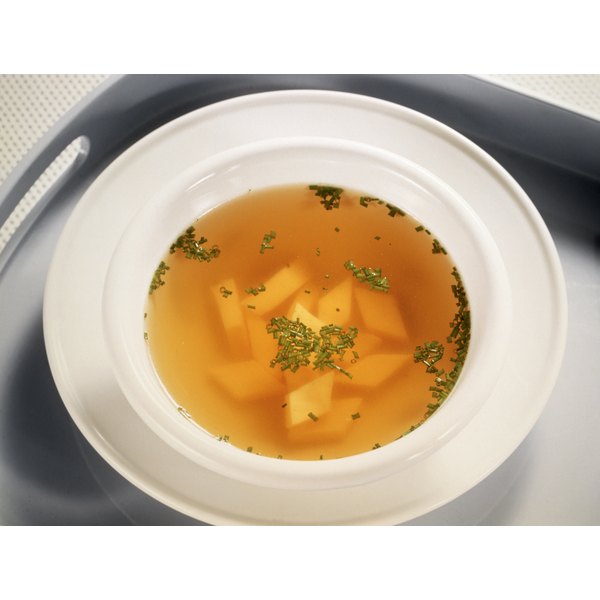 The Sacred Heart Diet is a soup-based diet that is supposed to help you lose between 10 and 17 lb. within a week. However, the weight lost is water weight that you tend to gain back after you finish following the diet. Despite sharing its name with Sacred Heart Hospital and Sacred Heart Medical Center, the diet has nothing to do with either institution.
The Sacred Heart soup is the core of the diet. You are allowed to make slight modifications to the recipe to modify flavor. However, the soup consists of canned tomatoes, beef bullion, chicken noodle soup mix, celery, onions, beans, bell pepper and a combination of mushrooms and vegetables. The Sacred Heart Diet lasts only a week. Each day you are supposed to eat the Sacred Heart soup with vegetables, fruits or meat. The Sacred Heart Diet imposes restrictions on the beverages you are allowed to drink throughout the diet, and even specifies what combination of food and drinks should go with the soup on each day of the diet. However, the diet is inconsistent with giving precise servings. You do not have exact portion sizes for day 1, for example, and then the diet specifies three bananas for day 4. Moreover the diet is noticeably quiet about the need to incorporate an exercise routine of some sort with the altered eating habits. Losing weight is not as simple as calorie counting.
Sacred Heart Diet Claims
Your body is supposed to be detoxified by this diet, according to the Sacred Heart Diet website. This claim is based on the fact that you generally limit your diet to fruits and vegetables for a week. You are not allowed to drink soda or alcoholic beverages while you are on the Sacred Heart Diet. You are encouraged to drink water, unsweetened fruit juice, tea and other healthy beverages. The Sacred Heart soup is supposed to be healthy and filling because of its vegetarian composition, Diets in Review.com notes. So by following this diet you are led to believe you will miraculously lose almost 20 lb. in a single week. The Sacred Heart Diet attributes this degree of weight loss to some vaguely scientific fat-burning process induced by the diet, the Every Diet website says.
Sacred Heart Diet Actual Effects
The truth of the matter is that losing more than 1 to 2 lb. a week is not healthy, FamilyDoctor.org explains. Your body already detoxifies itself through your kidneys and liver, so changing your diet will generally not reduce the level of toxins in your body. It may lower your toxin intake, however, because the diet does not encourage the consumption of processed meat. Without changing other aspects of your lifestyle, any weight that you actually lose during the Sacred Heart Diet will return after you switch to your regular diet and eating habits.
Dangers of Fad Diets
One of the main reasons that the Sacred Heart Diet is nothing more than a fad diet is its claim of significant weight loss after just one week of dieting, FamilyDoctor.org explains. Another reason is the claim that weight loss is achievable by avoiding fatty foods and some vaguely scientific reason that is not supported by actual medical evidence. If you want to lose weight, you must eat a balanced diet and limit your intake of saturated fats, cholesterol and soda. Weight loss also requires exercising for at least half an hour each day.