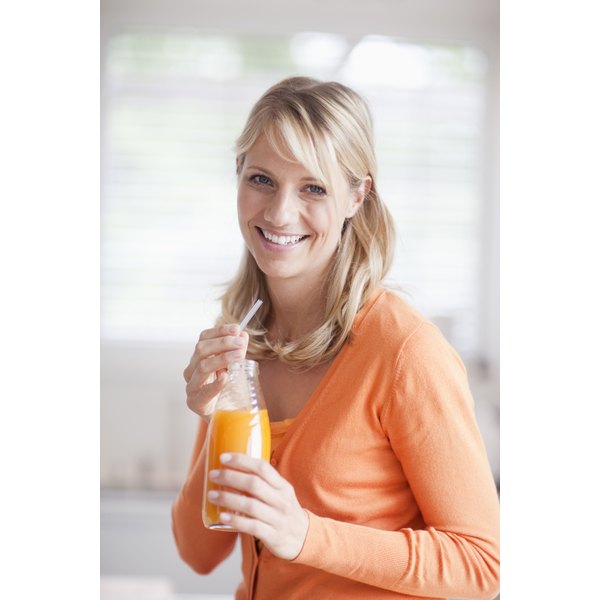 Adrenal fatigue is not a recognized medical diagnosis, but it's usually used colloquially to describe a decrease in adrenal function as a result of stress. If you've been feeling run down, juicing and fasting is not the best way to remedy the situation, and juicing might even make fatigue worse. Consult your doctor to help you identify and manage your fatigue.
Diet and Adrenal Fatigue
Adrenal fatigue is making the rounds in a number of health books as a way to explain the toll that long-term emotional, mental and physical stress takes on your health. Treatment usually involves taking a slew of supplements, along with making changes to your diet that include healthier food choices and eating regularly.
However, the Hormone Health Network reports that there is no medical test for this condition and that it is not recognized as a true medical diagnosis. While everyone benefits from following a healthy diet, there's no evidence to support the notion that a special diet or supplement routine can help treat adrenal fatigue.
Impact of Juicing
Juicing and fasting diets are extreme eating plans that severely restrict your calorie and nutrient intake. Fatigue is a common side effect of these types of diets. If you're already feeling overly tired, juicing and fasting may make you feel worse. In addition, restrictive diets may also cause dizziness and confusion or make it difficult to concentrate. In extreme cases, these diets may lead to an electrolyte imbalance, which can be life-threatening, according to an article published in "Today's Dietitian" in May 2008.
Healthier Options
If you're trying to improve energy levels and get healthier, instead of juicing or fasting, follow a balanced diet that includes food choices from all of the food groups. That way your body is able to metabolize the food you eat into energy and get the nutrients it needs for overall good health. It's also important that you eat regularly so your body is getting a steady stream of nutrients and energy throughout the day. Include as many food groups as possible at every meal.
Fitting Juice In
While juicing alone may not help you feel better, you can include juice in moderation -- between 4 and 8 ounces a day -- as part of your healthy diet. When making your own juice, include fruits and veggies rich in B vitamins, such as leafy greens, and vitamin C, such as tomatoes and citrus fruit, which may help improve adrenal health and stress hormone levels, according to a review article published in "Alternative Medicine Review" in 2009. Good fresh juice combos include tomato, collards, lemon or orange, strawberries and kale.