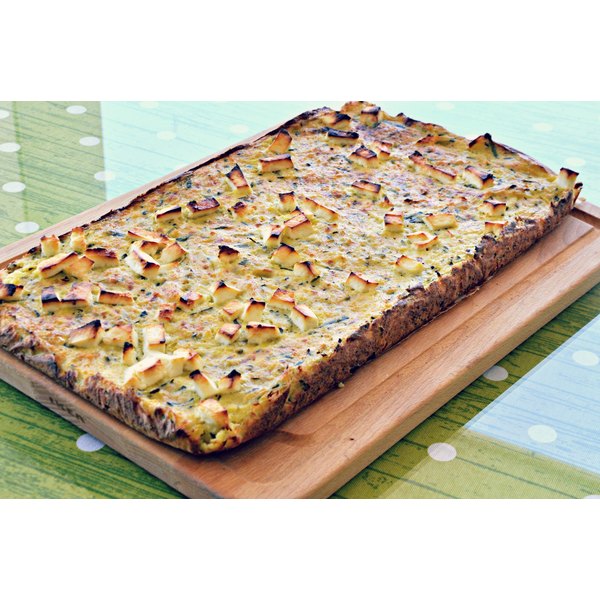 Any low-carb diet restricts the amount of carbohydrates you eat and stresses proteins and fats. Carbohydrates are in foods such as grains, beans, lentils, milk products, fruits and vegetables, including squash. All squash have some amount of carbohydrates, making a no-carb squash casserole somewhat difficult. However, squash are low in carbs, leaving a variety of casserole choices.
Eating Low-Carb
Eating low-carb foods may help decrease your insulin levels and promote weight loss. The Mayo Clinic says after eating, insulin is secreted into the bloodstream to allow sugar to be used by your cells for energy and to help store any excess fat for future energy needs. The theory is that lowered insulin levels cause your body to draw on stored fat for its energy. Eating low-carb foods, such as squash casserole, may also help decrease cholesterol levels. When eating low-carb meals, choose lean cuts of meat and fats that are unsaturated and low in cholesterol.
Summer Squash
Summer squash can be found in a variety of shapes and colors. The entire squash is edible, including the skin and seeds. There are four types of summer squash -- straight neck, crook neck, scallop and zucchini. When choosing squash for your casserole, pick one that is about 6 to 8 inches in length. Scallop squash should be about 4 inches in diameter. One cup of boiled and mashed crookneck and straightneck squash contains about 7 g of carbs.
Squash Casserole
Use a large bowl to combine 2 cups of boiled and mashed straightneck or crookneck summer squash with 1 small chopped onion, 3 tbsp. of melted butter, 2 tbsp. of heavy cream, 2 eggs slightly beaten, ½ cup of grated cheddar cheese, and salt and pepper to taste. Place in a casserole dish and cover with ½ cup of crushed pork rinds. Bake uncovered at 350 degrees for about 30 minutes. The entire casserole contains 23 g of carbs. To reduce fat content, use low-fat cheese and light cream.
Casserole Option
Boil and mash about 1 lb. of straightneck or crookneck summer squash and add ½ stick of melted butter. Put the squash in a greased casserole dish. In separate bowl, mix ½ cup of mayonnaise, ½ cup of chopped green onions, ¼ cup each of chopped green and red pepper, ½ cup of chopped pecans, ½ cup of cheddar cheese and 1 large egg. Spread over the squash. Sprinkle with Parmesan cheese and bake uncovered at 350 degrees for about 40 minutes. The casserole has about 11 g of carbs.