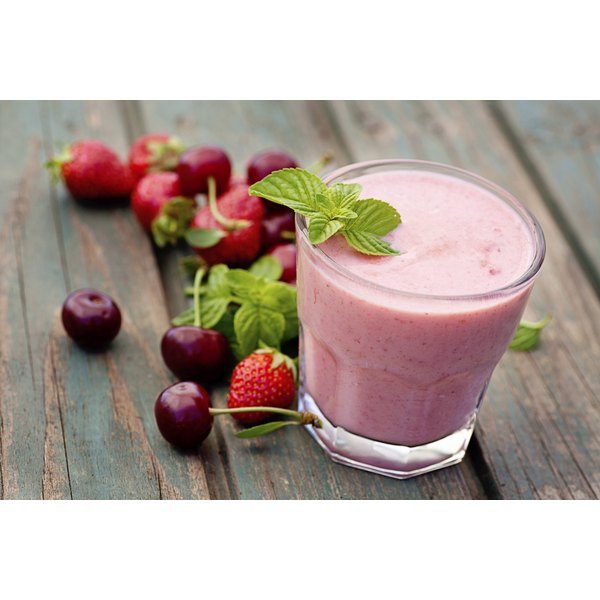 If you have diabetes, it is important to plan balanced meals that include carbohydrates, protein and fats and to choose a variety of foods. Shakes are a good option that can fit into a diabetic diet and suit your taste. Make a shake using whole fruits, low-fat dairy products and heart-healthy unsaturated fats to enjoy a healthy meal replacement or snack.
Choosing Healthy Ingredients
Adding foods that contain fiber and unsaturated plant-based fats will create a filling and healthy shake. Fat contributes a very small amount to your blood sugar, and healthy unsaturated fats and fiber can delay a rise in blood sugar, making a balanced shake a good mixed meal for a diabetic. The Joslin Diabetes Center recommends you consume monounsaturated and polyunsaturated fats in your diet, but watch the portion sizes so they don't contribute to weight gain. Use a 1-tablespoon portion of peanut butter, for example, to provide 95 calories, 8 grams of fat and only 2 grams of carbohydrate. After your shake is blended, pour out around 8 ounces for a snack and up to 16 ounces if you're using it as a meal replacement.
Protein in Shakes
Add protein powders such as whey protein or soy protein to make your shake a satiating meal replacement or substantial snack. Peanut butter or other nut butters are a great low-carbohydrate addition and a good source of heart-healthy fats. Use dairy products for moisture in your shake, such as low-fat, low-sugar yogurt or low-fat milk. Choose plain or vanilla yogurt to limit added sugar. The multitude of diabetic-friendly Greek yogurts available can offer a higher protein addition. Look for the words "no sugar added," "carb control" or "light" on the label of your favorite yogurt.
Fruit in Shakes
Choose whole fruits instead of fruit juice in your shake to add fiber and bulk. Be mindful of the quantity and portion of fruits you use because the natural sugar in fruit can contribute to a rise in blood sugar. One medium banana provides 27 grams of carbohydrate and will give a thicker texture to your shake when blended. Using frozen fruit instead of ice will increase the nutrient density of your frozen treat or meal. A cup of frozen strawberries provides 13 grams of carbohydrate and 3 grams of dietary fiber. Try frozen berries such as strawberries, blueberries or raspberries, which are high in antioxidants and fiber. Blend 8 ounces of sugar-free yogurt with 1 cup of frozen strawberries and one medium banana, and your shake will contain between 45 and 60 grams of carbohydrates, which is what the American Diabetes Association recommends for a meal.
Other Additions
Shaved coconut can change the flavor of your shake while not adding too much carbohydrate. One ounce of dried unsweetened coconut provides 7 grams of carbohydrate. Flaxseeds or chia seeds are a great source of healthy unsaturated fats and fiber. Add the ground seeds to your shake to help you reach your recommended daily fiber intake goals. The American Heart Association recommends you get 25 grams of fiber each day. A tablespoon of ground flaxseed contains 2 grams of unsaturated fat, 2 grams of fiber and 37 calories.