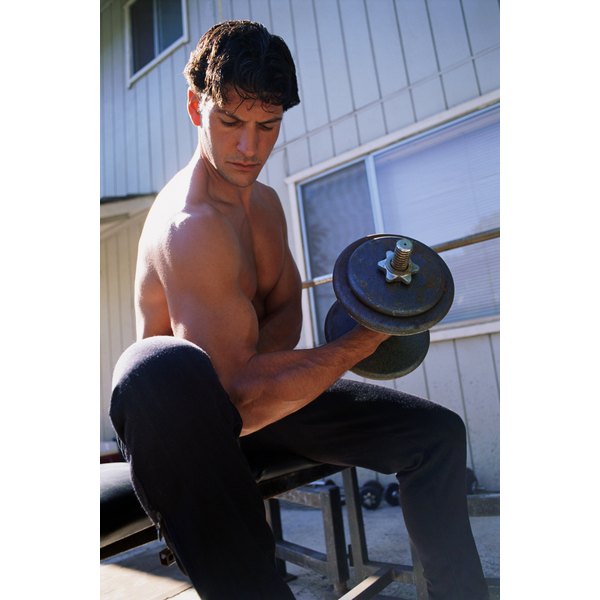 SizeOn is a sports performance supplement manufactured by Gaspari Nutrition. This product contains a number of ingredients purported to enhance athletic performance, including carbohydrates, protein and creatine. Creatine is a naturally occurring amino acid that may help you increase strength and muscle mass when consumed in conjunction with proper nutrition and workout plans. Despite the potential benefits, you should consult a doctor prior to using SizeOn or other supplements.
Creatine Amount
Each serving of Gaspari Nutrition SizeOn contains 4 g of creatine, according to a study from the December 2010 issue of "Journal of the International Society of Sports Nutrition" that assessed the effectiveness of the supplement. This amount is within the range of the daily dose suggested by the University of Maryland Medical Center, 2 to 5 g.
Creatine Benefits
Although creatine can be found in beef and other protein-rich foods, additional supplementation may be beneficial. A research review from the October 2003 edition of "The Journal of Orthopaedic and Sports Physical Therapy" concluded that creatine can be effective for enhancing strength, increasing muscle gain and promoting sports performance improvement when used with effective training programs.
Creatine Concerns
Creatine can have benefits, but it is not without potential drawbacks. The University of Maryland Medical Center explains that a number of side effects are associated with creatine use, including cramps, weight gain, diarrhea, dizziness, upset stomach and liver and kidney problems. The center also notes that using creatine in conjunction with caffeine, diuretics, over-the-counter pain relievers and certain prescription medications can be dangerous. Consult a doctor prior to use.
Other SizeOn Ingredients
SizeOn contains a number of ingredients other than creatine. These ingredients include protein and amino acids such as leucine, isoleucine and valine for recovery, sugar for energy and vitamin C for its antioxidant properties. Although these ingredients can be beneficial, vitamin C may cause detrimental effects for exercise performance. According to a study published in the September 2009 issue of "Medicine & Science in Sports & Exercise," supplementation of antioxidants, including vitamin C, does not protect against damage to certain cells after exercise and can delay recovery of muscle tissue. This may inhibit gains in strength.