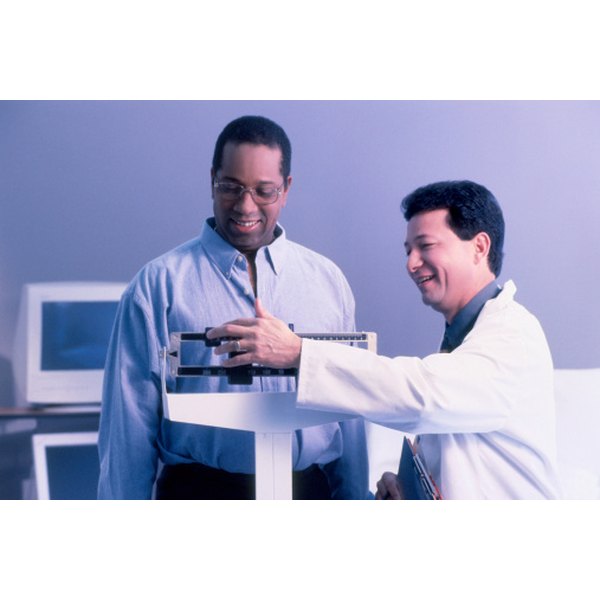 Diet pills you can buy over the counter often claim to be "doctor approved," but that doesn't mean all doctors think they're safe or effective for weight loss. In fact, many diet pills – including Fen-Phen and the original Dexatrim – have been pulled from the shelves after consumers started complaining of negative health effects such as heart problems. Generally, the only diet pills doctors back up are the ones they can prescribe.
Concerns About OTC Diet Pills
Because most over-the-counter diet pills fall into the dietary supplement category, manufacturers and distributors of such diet pills can sell their products with limited proof of effectiveness or safety. Due to the lack of regulations, over-the-counter diet pills may also contain ingredients that aren't listed on the label or contain more than the listed amount of any given ingredient. The U.S. Food and Drug Administration can only monitor these products once they are on the shelves. The FDA does have the power to strip potentially harmful products from the shelves after consumers submit complaints.
Prescription Diet Pills
Most of the prescription diet pills that your doctor may recommend are available for short-term use – a few weeks – though your doctor could prescribe them for longer if she thinks it is a safe and effective option for you. These pills are usually appetite suppressants, meaning they increase certain brain chemicals that affect your mood and help to reduce your appetite, according to the Weight-control Information Network. A prescription dose of orlistat, which helps your body absorb about one third less dietary fat, is the only prescription diet pill approved for longer-term use. However, its effectiveness and safety haven't been studied beyond the two-year mark.
Approved OTC Pill
Starting in 2007, the FDA approved a milder dose of orlistat under the brand name alli. This may be the only over-the-counter diet pill your doctor would recommend because it is considered moderately effective in its prescription form. Still, alli isn't a miracle pill on its own. If your doctor thinks you would benefit from taking alli, he will suggest taking it in conjunction with regular exercise, a daily multivitamin and a low-fat, low-calorie diet.
Candidate Limitations
Your doctor will only consider you a proper candidate for most diet pills if your weight is high enough to increase your medical risk. Most of the time, prescription pills are only approved if your body mass index is at least 30 or if your body mass index is at least 27 and you have an obesity-related condition such as type 2 diabetes, according to the Weight-control Information Network. Even if your weight is in the right range, your doctor may recommend against taking diet pills if you're currently taking a medication or have a current health condition that would negatively interact with a diet pill.