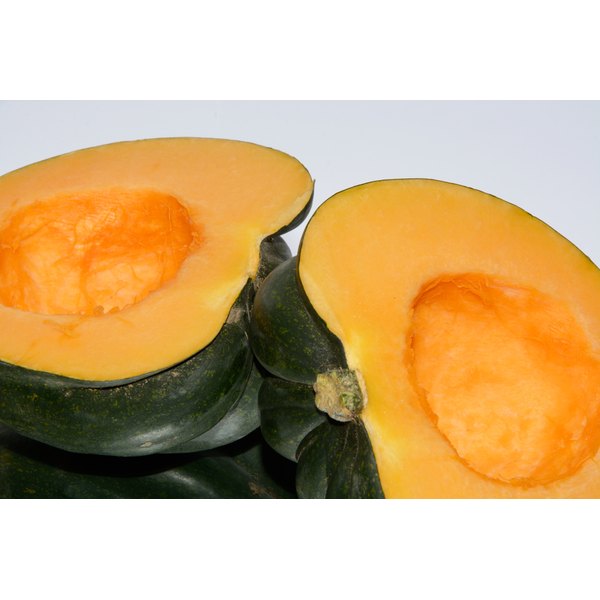 Acorn squash is a colorful, healthy and sweet tasting variety of winter squash. Each 1/2 cup serving contains no fat and only 60 calories, yet provides 18 percent of your daily fiber requirement, 20 percent of your vitamin C requirement and 8 percent of your daily vitamin A requirement. Although acorn squash is usually available on a year-round basis, precooking and then preserving makes dinnertime preparation more convenient. While canning is a possibility, concerns regarding bacterial infestation make freezing the best way to preserve acorn squash.
Cut cooked, cooled acorn squash into cubes. As an alternate option, spoon the squash into a bowl and puree to the consistency of mashed potatoes with a hand or electric mixer set to low power.

Arrange cubes in a single layer on a baking sheet. Set the baking sheet in your freezer for three to four hours or until the cubes freeze. Pack the frozen cubes in plastic freezer bags, squeezing out as much air as you can when sealing the bags.

Spoon acorn squash puree into containers, leaving about 1/2 inch of space between the squash and the top of the container. Seal and set the containers in your freezer.

Tip

Use your microwave oven or conventional oven to cook acorn squash in preparation for freezing. Remove the stringy pulp from the middle of the squash with a spoon and then and cut it halves or quarters.

Microwave the squash for about 15 to 20 minutes on a high-power setting or bake acorn in your oven at 350 degrees Fahrenheit for about 30 minutes. Cool thoroughly before freezing.

Acorn squash freezes well for up to one year.