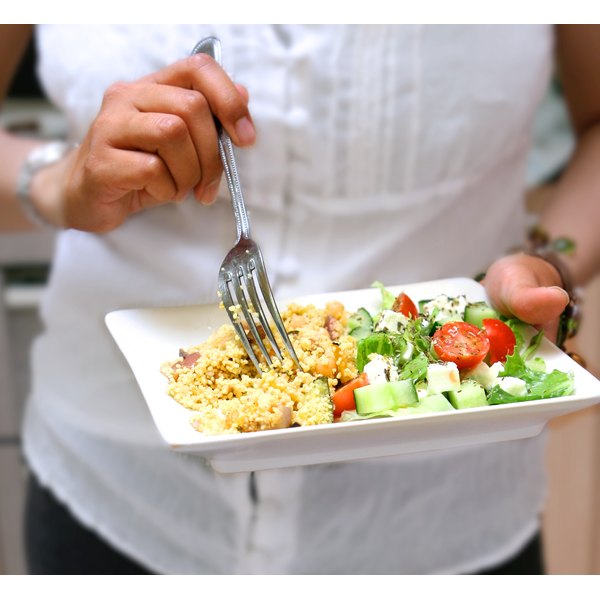 Planning meals and snacks can be tricky if you absolutely love food. A hearty appetite can make it easy to down too many calories with junk foods and sweet treats, so you need to anticipate what you're going to eat and carefully study ingredients and nutrition fact labels to make smart, healthy choices.
Nutrition Information
Knowing more about the type of nutrients that fuel your body effectively can help you plan smart meals and snacks. Soft drinks, candy bars, chips and other junk foods contain high amounts of sodium, cholesterol, saturated fat, simple carbs and sugar, which don't provide lasting energy or meet your body's nutritional needs. When you read food labels, look for high amounts of whole grains, dietary fiber, low-fat protein, vitamins and minerals and low amounts of added sugar, fat, cholesterol and sodium.
Energy Density
If you like to eat often, one helpful tip is to seek out foods with low energy density levels. According to MayoClinic.com, such foods have high amounts of fiber and water and low calorie and fat counts, and they are ideal for weight loss and healthy weight maintenance. Examples include fruits, vegetables, whole grains and nonfat dairy products. Focusing on such foods in your meals and snacks can help you keep your daily calorie totals under control and get a maximum amount of healthy nutrients.
Sample Plan
A healthy meal plan that allows you to eat often might include five or six small meals per day instead of three main meals and snacks. Try choices such as a small egg-white omelet with vegetables, wheat toast with nut butter and fresh fruit, a high-protein smoothie, broth-based soup, a green salad with nuts or seeds, lean meat with steamed vegetables, hot whole grain cereal with milk and fruit, a vegetable wrap, rice pilaf, low-fat casserole or nonfat yogurt and granola. For snacks, consider fresh veggie sticks and hummus, whole-grain crackers and low-fat cheese, low-fat granola bars, pieces of fresh fruit or single serving containers of yogurt or milk.
Considerations
When your goal is to eat healthfully, planning can make a world of difference. Grabbing fast food or restaurant meals may be more convenient than making food, but according to HelpGuide.org, prepared items have greater amounts of fat, sodium, calories and cholesterol than homemade foods, so it's worth the time and effort to create your own grub. Try shortcuts such as making extra food in advance, using frozen or canned fruits and vegetables and buying healthy, mobile snacks that you can take with you on the go. To make food that tastes great without excessive calories and fat, flavor items with fresh or dried herbs and spices instead of using liberal amounts of butter or oil.