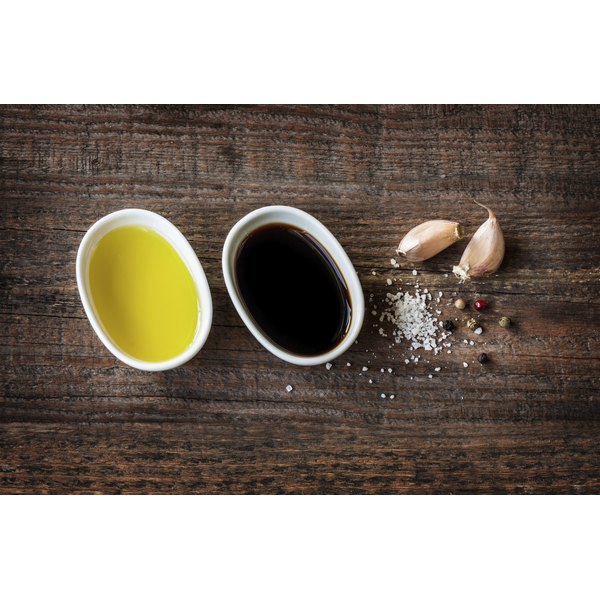 You can drizzle balsamic vinaigrette over wedges of fresh tomato and soft mozzarella cheese, toss it with lettuce leaves and caramelized walnuts in salad or sprinkle it on fruits to increase sweetness. The effects of eating balsamic vinaigrette can be both positive and negative, so make adjustments in your preparation to encourage healthier consumption.
Balsamic Vinegar
Balsamic vinegar is a key ingredient in balsamic vinaigrette. This vinegar type comes from white, sweet grapes grown in Modena, Italy, according to The Vinegar Institute. Cooked grapes are aged to encourage natural fermentation and then concentrated in different barrels to create a dark-colored vinegar that has a flavorful, slightly sweet complexity. What's Cooking America recommends drizzling balsamic vinegar on figs, incorporating it into shellfish dishes or serving it with wedges of Parmesan cheese.
Vinaigrettes
Balsamic vinegar can be tasty alone, but you can combine it with other ingredients to create vinaigrette. You also can buy balsamic vinaigrette in specialty delis or at the grocery store. To make your own balsamic vinaigrette at home, the Oprah website recommends combining 3 tbsp balsamic vinegar, 1 tbsp red wine vinegar, 1 tsp Dijon mustard, 1 garlic clove, ¾ c olive oil and salt and pepper in the blender to make 1 c of vinaigrette dressing.
Positive
Folklore suggests many positive properties of vinegar, but in most cases the research does not fully support these claims. For example, consuming vinegar has been associated with blood pressure reduction in laboratory rats, but so far no link has been established with human consumption, according to Medscape General Medicine. Some studies have shown vinegar to increase satiety, resulting in a slight reduction in calorie intake among research participants, according to the same source. Advocates of balsamic vinegar consumption believe that its antioxidants boost the immune system and fight cell damage, according to the Extra Virgin Olive Oil Marketplace website. Incorporating balsamic vinaigrette into your salads, fruits and vegetable servings might encourage you to eat more of these products if you enjoy the vinaigrette's taste.
Negative
Because balsamic vinaigrette uses olive oil as a base, eating vinaigrette could increase your intake of calories and fat. According to Environmental Health News, some vinegars -- especially aged vinegars such as balsamic vinegar -- contain large doses of lead. Lead can damage your neurological system and can be especially dangerous for children. A carcinogen, lead has been linked to problems with the cardiovascular, kidney and immune systems.
Tips
Not all balsamic vinegars contain lead levels exceeding limits set by some states, including California, to protect consumer safety. Purchase vinegars that have been tested for lead levels, and cut in citrus juices such as lemon or grapefruit. You also can reduce calorie and fat content by substituting chicken broth or tomato juice for part of the olive oil, according to "Tips on Balsamic Vinaigrette for Clean Eating."