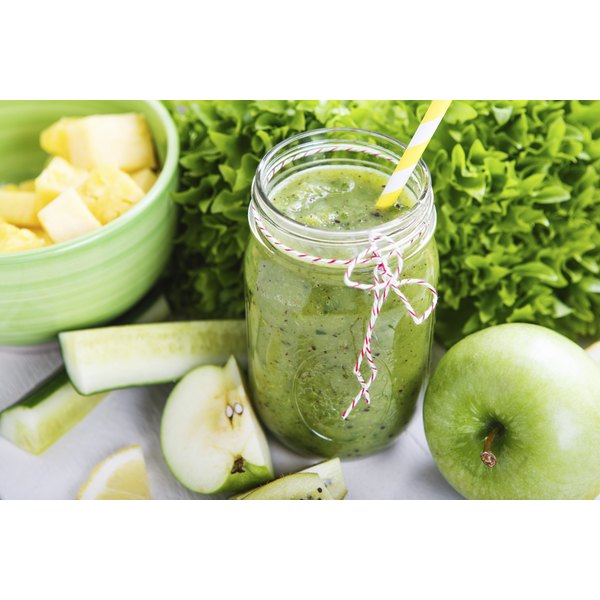 Healthy shakes can make a nourishing snack or a small meal when you are trying to lose weight. Shakes are easy to make, convenient, filling and can be customized to suit your tastes. A healthy shake should incorporate a liquid base, lean protein, dietary fiber and healthy fat to get the most nutritional value, according to Harley Pasternak, author of "The Body Reset Diet." You can buy a variety of pre-made shakes but making your own insures that the ingredients are nutritious and low-calorie to help you get essential vitamins and may help you to shed pounds.
Components
Store-bought shakes often contain added sugars, sodium and fats, and they are not as nutritionally dense as homemade shakes made with fresh ingredients. At home, use non-fat, soy or almond milk as a base that includes calcium and protein. Tofu, low-fat dairy and protein powders provide lean protein. Fruits and veggies add fiber and carbs, while nuts and avocados are good sources of healthy fats. For individuals who are diabetic or on a low-carbohydrate diet, checking the sugar content or glycemic index of an ingredient can help to ensure that your shake is not overloaded with sugar.
Berry Delicious
Blueberries are low in sugar, high in fiber and have anti-inflammatory benefits. Mix frozen berries with low-fat soy milk and low-fat vanilla yogurt. A 1-cup serving has about 175 calories, more than 300 mg of calcium and almost 5 grams of protein. Berries can also be blended with pomegranate juice for an antioxidant- rich shake. Adding non-fat cottage cheese to this pomegranate-berry shake ups the nutrition value by adding protein and calcium. Blend together 2 parts of frozen strawberries, blueberries or mixed berries, 1 part each of pomegranate juice, cottage cheese, water and a banana. Mix the ingredients until smooth and creamy. This shake is 210 calories, has 6 grams of protein, 6 grams of fiber and 600 mg of potassium.
Filling Veggies
To create a healthy green shake that is loaded with potassium, blend a banana, a sliced pear, a few cups of chopped organic kale, orange juice, water, ice cubes and ground flax seeds. Blend until smooth for a shake that is less than 250 calories and has 1,000 mg of potassium. Create a sweet spinach shake that has 300 calories, 21 grams of protein and 9 grams of fiber. Blend together nonfat plain Greek yogurt, fresh spinach, an apple, red grapes, a tablespoon of avocado and a squeeze of lime.
Tropical Delight
To create a rich shake that has 250 calories per serving, mix together equal parts fresh mango and avocado. Add two parts mango juice, a squeeze of lime juice, one part fat-free vanilla yogurt and ice. Blend until smooth. Lassi is a rich yogurt drink from India. To create a low-calorie, high-calcium version, blend non-fat Greek yogurt, fresh mango and low-fat milk. Pour into a glass and top with chopped pistachios and a sprinkle of ground cardamom. This shake has less than 150 calories, 8 grams of protein and over 200 mg of calcium per 1-cup serving. Another tasty mango-infused shake tastes like a creamsicle Popsicle and features essential electrolytes. Blend mango with coconut water, non-fat frozen vanilla yogurt and a few tablespoons of low-sugar frozen orange juice concentrate. This is also a great hydrating shake for early morning workouts and has under 200 calories.