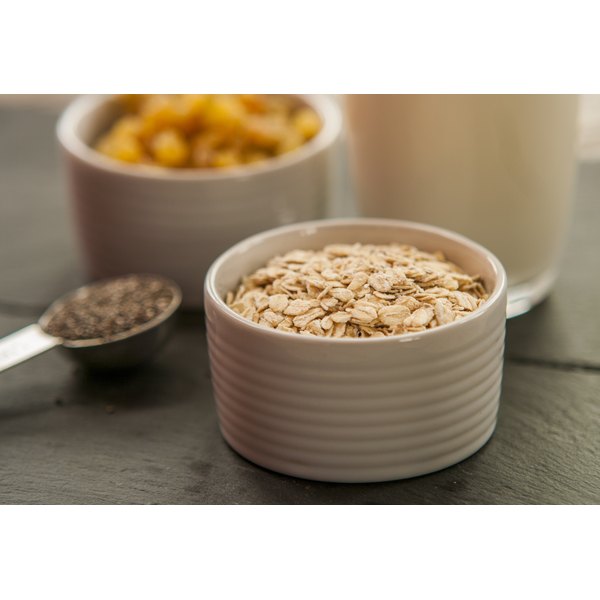 Raw oats are natural sources of many vital nutrients. They are a versatile food that you can enjoy raw or cooked as a hot breakfast. Consuming oats and other whole grains daily is necessary for good health and may even lower your risk for certain diseases. For a full list of other healthy grains, consult a registered dietitian.
Nutritional Value
Oats are naturally rich in carbohydrates, fiber and essential vitamins and minerals. One cup of raw oats provides 28 g of carbohydrates and 4 g of dietary fiber. Minerals in oats include calcium, iron, potassium, magnesium, selenium, phosphorus and zinc. Oats are also sources of water-soluble B vitamins such as riboflavin, niacin and folate. In addition, oats provide protein and healthy fats. One cup of oats is equivalent to two servings of grains and almost 20 percent of your recommended Daily Value, or DV, of fiber.
Health Benefits
Oats and other whole grains are part of a heart-healthy diet. They are excellent sources of dietary fiber, low in saturated fat and cholesterol-free. The American Heart Association notes that high-fiber grains are associated with reduced cholesterol levels. When consumed regularly, fiber is also associated with decreased risk of cardiovascular disease among individuals most at risk. In addition, dietary fiber can promote weight management by making you feel full longer so you eat less.
Daily Recommendations
You should consume 45 percent to 65 percent of your daily calories from carbohydrates such as fruits, vegetables, whole grains and dairy products. As a general rule, consume six to eight servings of grains every day. One serving of whole grains is equivalent to 1/2 c of oats. Other high-fiber grains include brown rice, quinoa, barley and rye. Aim for 14 g of fiber for every 1,000 calories you require daily. In addition, consume about eight to 10 servings of fruits and vegetables daily. Specific daily requirements depend on your age, sex and activity level. Consult with a registered dietitian for your exact recommendations and other nutritional guidelines.
Diet Considerations
Various nuts, flax seeds and fresh fruit make nutritious additions to raw oats. Always properly store raw oats in a packaged container to maintain freshness; you can store raw oats in an airtight container for a couple months. When purchasing commercially prepared oats, choose products with the least added sugar or sodium. Preparation of oats depends on their texture or type. Read labels carefully when choosing or preparing oat products.