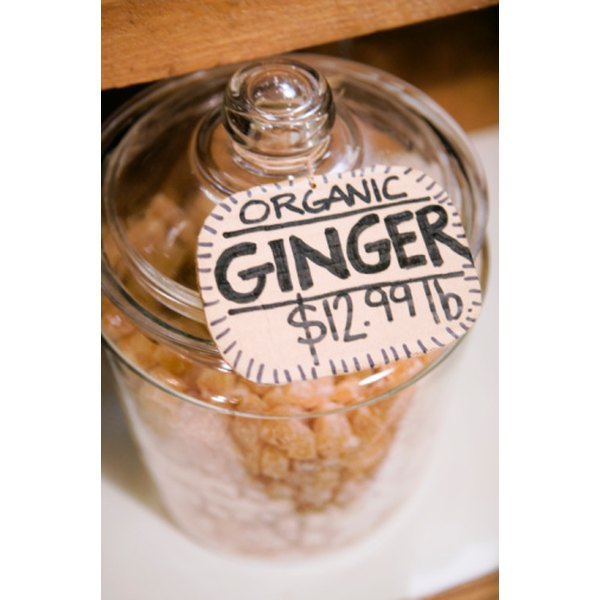 Ground ginger and ginger root are used in many recipes, but candied ginger, also known as crystallized ginger, adds a different kind of flavor to many types of dishes. Candied ginger is created by slicing a ginger root into cubes and preserving it in sugar syrup, then covering it in granulated sugar. It is sold in the spice section of grocery stores; several varieties of ginger chew candies are sold in cube, slice and medallion forms. Candied ginger is a commonly used flavoring for everything from drinks and desserts to salads and main courses.
Drinks and Garnishes
Candied ginger is used to make or enhance certain cocktails. Heating candied ginger with fruit juices such as pomegranate juice or orange juice creates a syrupy, flavorful mixer for alcohol in cocktails. Using a slice of candied ginger as a garnish is a stylish way to top off a ginger-flavored drink. For a nonalcoholic drink, heat candied ginger with milk and then add cocoa powder and sugar for a gingery twist on hot cocoa.
Spreads and Salads
Make ginger butter by combining candied ginger with unsalted butter, honey and salt and whipping it with a whisk until a buttery texture is achieved. For a new twist on old dips, modify a vegetable dip recipe by nixing cheeses and other spices and adding candied ginger. Adding finely chopped candied ginger to salads adds the same kind of sweet flavor that orange slices or dried cranberries do.
Main Course Dishes
Candied ginger is commonly used as an ingredient in baked goods and treats and in many main course dishes. It adds a subtle, sweet flavor to dishes, and is easy to add minced to rice pilaf and fried rice recipes. In addition to enhancing grains, it complements root vegetables well. Try lightly mincing a few cubes of candied ginger and sprinkling it over yams, squash or sweet potatoes.
Sweeten Sugary Treats
Candied ginger is an ingredient and flavor enhancer in many baked goods, from ginger snap cookies to gingerbread cake. Adding a tablespoon of minced candied ginger to pumpkin or fresh fruit pies provides a sweet, unexpected bite of flavor. It can also be used in muffin, scone and biscotti recipes. Other common uses of candied ginger in dessert recipes include sprinkling it minced into applesauce and adding it to a baked apple crisp to mingle different sweet flavors.