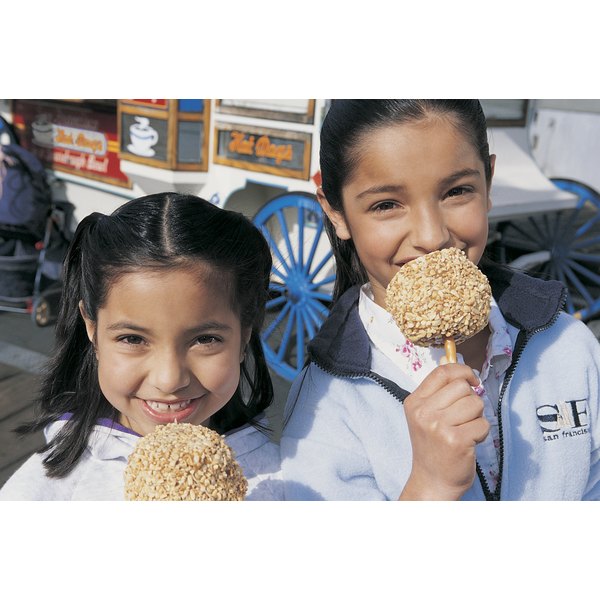 Caramel apples are a sweet treat that often appears in the fall when cooler weather brings a harvest of fresh, crisp apples. Apples may be wrapped in a layer of caramel or sliced and drizzled with warm caramel. If you have celiac disease or gluten intolerance, eating caramel apples may be risky if you're unsure how they are made: They may contain gluten.
Gluten Concerns
Gluten may end up in your caramel apple several ways. Wheat flour may be added to the caramel to thicken it during production. Caramel apples may also be dusted with a light coating of wheat flour to prevent sticking to the packaging or to other caramel apples. Other ingredients added to a caramel apple, such as crushed pretzels or crushed cookie pieces, may also contain wheat flour and are not gluten-free.
Labeling Laws
The United States Food and Drug administration food labeling laws require that wheat be listed on foods that contain it as part of an allergy labeling system. Wheat is one of the eight most common food allergens and must be declared on all commercially prepared foods in the U.S. This does not include other grain products that contain gluten, like barley or rye. Malt syrup, commonly used as a flavoring, is made from barley and is not required by law to be listed on food packaging. Caramel apples that are specially made gluten-free will read "gluten-free" on the label.
Finding Out
Because wheat-free doesn't mean gluten-free, it is important to read the ingredient list on caramel apple packaging. Caramel apples that contain barley malt flavoring will indicate "malt" or "malt syrup" in the ingredient list. If you're still unsure, consider calling the caramel apple manufacturer to ask if their product is gluten-free.
Some caramel apples may be made fresh, such as at a fair or carnival. Ask the vendor if their caramel apples are made with gluten-free ingredients. The University of Chicago Celiac Disease Center cautions about the risk of gluten cross-contamination. Be cautious with freshly made caramel apples if there is a risk of gluten contamination from other sources. Caramel apples prepared around wheat and gluten-based foods, such as donuts and other baked goods, are at risk of gluten cross-contamination.
Make Your Own
Making caramel apples at home may be a safer choice if you're worried about consuming gluten. Purchase fresh apples, sticks and a bag of gluten-free, prepackaged caramel squares, which are widely available in grocery stores or health food markets. Cover a large plate or baking sheet with wax paper. Insert sticks into the tops of the apples. Add one bag of unwrapped caramel squares to a medium saucepan. Add one tablespoon of water to the caramels and melt caramels over low heat until gooey. Dip apples into the melted caramel by holding the stick and allow excess caramel to drip off the bottom of the apple. Place apple onto the wax paper to cool. Repeat with remaining apples and caramel.