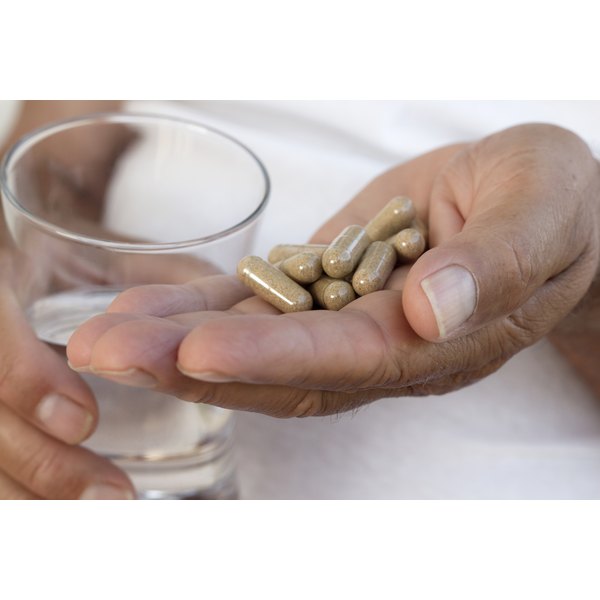 Garcinia cambogia extract is made from the tamarind fruit and is used in several supplements sold as weight-loss pills. Although these supplements don't typically cause a lot of side effects, they probably won't improve your weight-loss results much either. You're better off exercising more and following a healthy weight-loss diet if you want to lose weight, according to a March 2014 "Consumer Reports" article.
Active Ingredients
Any potential benefits attributed to garcinia cambogia extract are usually attributed to the hydroxycitric acid this extract contains. Hydroxycitric acid may help regulate levels of the hormone serotonin, improve fat metabolism and decrease the creation of new fat in your body, according to a review article published in "Evidence-Based Complementary and Alternative Medicine" in 2013.
Weight Loss
Garcinia cambogia extract may help you feel more satisfied after eating, helping you to eat less and maintain your weight. A study published in "Phytotherapy Research" in October 2013 found that treatment with 2.4 grams of garcinia cambogia extract for 60 days lowered triglycerides, although it didn't result in any weight loss. The 2013 "Evidence-Based Complementary and Alternative Medicine" notes that animal studies may show more weight-loss benefits than studies using people due to different formulations of the supplement or doses that are too low. In addition, hydroxycitric acid may only be beneficial if people eat a high-carbohydrate diet. Fiber may also bind to the acid, making it less effective.
Safe Dosage
Studies haven't shown any significant side effects when people take a typical dose of garcinia cambogia compared to a control substance, according to a review article published in "Critical Reviews in Food Science and Nutrition" in 2012. Another review article, published in "Evidence-Based Complementary and Alternative Medicine" in 2012, notes that there aren't any observed adverse effects when this supplement is consumed at levels of up to 2,800 milligrams per day.
Potential Adverse Effects
A study published in the "World Journal of Gastroenterology" in August 2013 found that garcinia cambogia extract may increase inflammation in mice and cause collagen to accumulate in the liver. Another study, published in "Food and Chemical Toxicology" in March 2005, found that high doses of garcinia cambogia caused the testicles to atrophy in rats, so men may want to avoid using this supplement, although these results are preliminary and may not apply to people as well as animals.