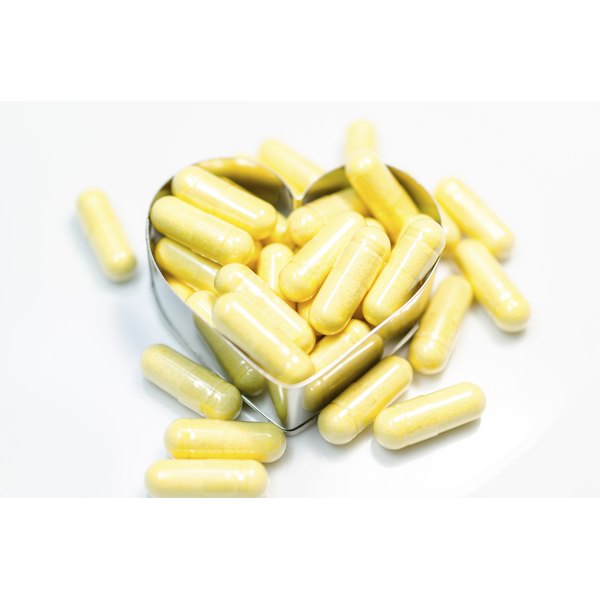 Pravastatin is the generic form of Pravacol, a popular cholesterol-lowering medication that is part of the stain group. According to "Consumer Reports" magazine, statin drugs are among the most commonly prescribed drugs in America, with more than 13 million prescriptions being filled every month. A common side effect of statin drugs is a reduction of coenzyme Q10, which is responsible for energy production within the cells. According to the University of Maryland Medical Center, it enhances the body's immune system and functions as an antioxidant and may reduce the muscle pain commonly associated with statin use. Check with your doctor before taking CoQ10 supplements, though, to ensure safe and proper usage.
Discuss your intentions with your health care provider. Your pharmacist is also a good resource, especially when it comes to knowing about harmful side effects or unwanted drug interactions. It is best if you do some advance research on your own so you can come prepared with a detailed list of questions.

Determine which supplement is best. CoQ10 comes in liquid form, gel caps, tablets, chewable tablets and even mouth sprays. CoQ10 is found over the counter in any health food store or pharmacy. Your local grocer may also carry it. CoQ10 is also available as a prescription, and may be covered by your health insurance or prescription drug plan. The generic name for CoQ-100 is ubiquinone.

Monitor side effects. CoQ10 has very few side effects. The most common problems reported with this supplement tend to affect the digestive tract. If you experience diarrhea, upset stomach, nausea or loss of appetite, consult your doctor. Some people have also reported trouble sleeping. If you have a severe allergic reaction, consult emergency personnel immediately.

Tip

Because CoQ10 is fat soluble, it is best taken with food to maximize absorption. According to the University of Maryland Medical Center, if taken at night, the body may utilize it better. CoQ10 can also be found in food like salmon and tuna as well as beef liver. Whole grains offer another good source of CoQ10. A balanced diet may negate the need for supplementation.

Warnings

The recommended dosage for adults is 30 to 200 mg per day; exact dosage depends on the condition you are trying to treat and should be discussed with your health care provider. Though CoQ10 is relatively safe for most populations, those taking blood thinners like warfarin should avoid this supplement. Also, if you are pregnant or nursing, avoid CoQ10.