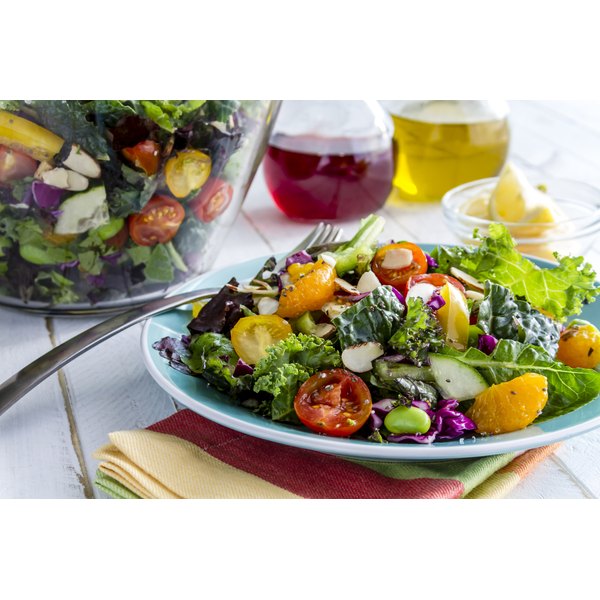 Every living cell contains carbohydrates, and these nutrients serve vital functions to the human body. Carbohydrates are composed of sugars, which the body digests and converts to glucose, or blood sugar. Glucose is used directly by cells for energy, stored in the liver and muscles as glycogen for later energy use, converted to fat or used to synthesize amino acids. In general, carbohydrates provide four physiological roles in the human body.
Source of Energy
The primary responsibility of carbohydrates is to provide energy. The breakdown of glucose and muscle glycogen provides energy for all muscular action. Consuming sufficient dietary carbohydrates can help maintain glycogen stores in the liver and muscles. When not readily used or consumed in excess, carbohydrates are easily converted to fat, which the body can also depend upon for later energy use.
Prevents Protein Breakdown
When carbohydrate intake is insufficient, the body lacks the glycogen it needs to fuel its energy needs. While protein typically maintains tissue growth and repair and plays a small role in providing energy to cells, a lack of glycogen results in the body synthesizing glucose from protein and fat in order to meet its energy needs. This process can result in protein deficiency and a subsequent breakdown in muscular tissue. Adequate carbohydrate intake can therefore help maintain proper protein stores and maintain muscle growth.
Facilitates Fat Metabolism
Byproducts occur as a result of carbohydrate metabolism that help facilitate normal fat metabolism. Similar to protein, insufficient carbohydrate intake can result in a dependence on fat for energy. While the body can rely on fat metabolism for a short time, this will ultimately result in a loss of energy and a state of nutrient deficiency.
Brain Fuel
The brain and central nervous system rely on blood glucose to function properly, and in conditions in which carbohydrate intake is insufficient, cognitive abilities suffer. Hypoglycemia, or low blood sugar, can result in mood disturbances, dizziness, fatigue, delayed decision-making and general weakness. Ultimately, the brain will rely on fat for energy when insufficient carbohydrate intake lasts longer than eight days or so, according to "Essentials of Exercise Physiology."
Sources and Recommendations
According to the Food and Nutrition Board of the Institute of Medicine, carbohydrates should account for 45 to 65 percent of your daily caloric intake. The best sources of carbohydrates are complex, or those consisting of multiple sugar molecules joined together. Complex carbohydrates provide a steady rise and blood glucose levels, resulting in lasting energy and satiety throughout the day. Optimal sources of complex carbohydrates include whole grain breads and snacks, beans, fruits and vegetables and seeds.