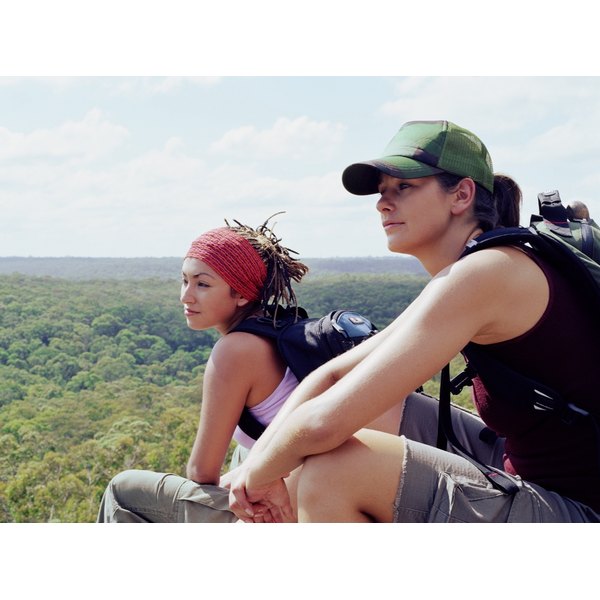 Backpacking across the entire United States is a trip of about 3,000 miles and not a task to take lightly. Losing weight, raising money for a cause or simply trying to achieve a personal milestone are all reasons why people have chosen to tackle this goal. Whatever your reason and whichever route you decide to take, you'll need to pack the same essential items that you'd need on any backpacking trip. Specialty items such as sunscreen, bug repellent and winter clothing are useful when appropriate, but carrying them for the sections where they aren't necessary will only weigh you down. Choose items that are not only light, but take up little space in your pack.
Clothing
A comfortable backpack and broken-in shoes can make a huge difference on your trip. Bring a pack cover to protect your backpack from the rain, plus a waterproof rain jacket for yourself. Carry minimal clothing appropriate for the climate, and have bulky items such as gloves and parkas mailed to you on an as-needed basis. As any hiker knows, extra socks are a must to prevent blisters caused by wet feet, and hiking poles can help take some weight off your feet.
Outdoor Gear
You probably won't be staying in a house or hotel every night, so pack a sleeping bag, a sleeping pad, a tent and a groundsheet for nights spent outdoors. Bring lightweight foods, such as dried fruit, and protein-rich foods, such as peanuts, plus a stove, fuel, pot, lighter and utensil. A headlamp and extra batteries are useful for when the sun goes down. Don't forget your water bottles and a method of obtaining clean water, whether pump, iodine or UV sterilizer.
Navigational
Bring a map of your route and a compass, along with a cell phone and charger if you want to keep in touch with friends and family. To record the trip, bring a camera and its charger, or go the old-fashioned route with a pen and journal. Other useful items include a watch with an alarm function, along with your wallet, ID card and money for the trip.
Essentials
From toothbrush and toothpaste to toilet paper, baby wipes and any medications you might need, such as an EpiPen, there are numerous items you can't do without. Bring a first-aid kit with moleskin and tape for blisters, plus a Swiss army knife and duct tape for equipment repairs. Pack pepper spray in case you encounter aggressive dogs or wildlife.