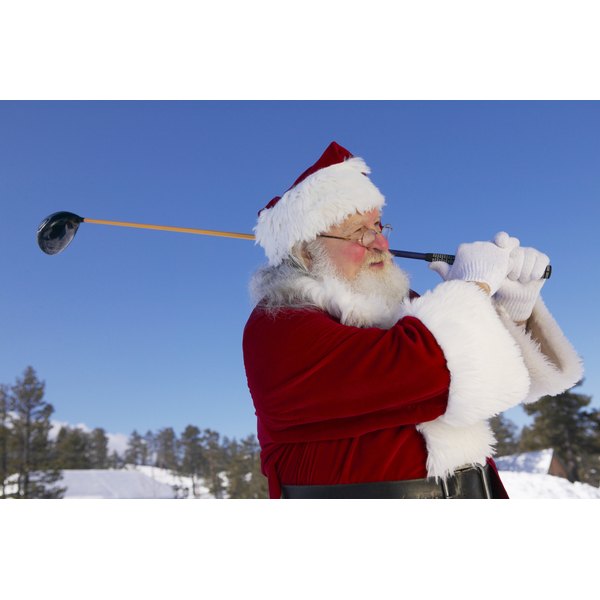 President Woodrow Wilson famously played golf in the snow using black golf balls. Few golfers are that dedicated, but cold weather doesn't have to keep you off the golf course. The key is knowing how to dress. Heavy winter clothing and thick gloves will hinder your ability to swing a club. Proper cold weather golf attire provides full body warmth and protection from the elements while allowing you to make a relatively free golf swing.
Toasty Toes
You must keep your feet warm and dry. For foot protection, start with an extra pair of socks for warmth. Both pairs of socks have to be thin enough when worn together that your shoes will fit comfortably over them. The shoes you wear during summer months might not provide the protection you need in cold weather. To keep moisture out, and heat in, choose a pair of all-weather or winter golf shoes that feature a water resistant, synthetic upper or a waterproof lining.
Long Johns and Beyond
Wearing layers of light, loose clothing play will make it possible to swing freely, and allow you to shed layers if the weather warms up. Start with thermal undergarments. These don't have to old-fashioned log johns, but thin, snug-fitting compression shirts and pants. They'll provide insulation close to your skin without restricting your motion. On top of them, add heavy golf trousers, a shirt or two and sweater. A pair of rain pants will also give you some protection from the wind and low temps. As a final layer, you may find a wind- and waterproof vest allows for more freedom than a jacket.
Warm Hands
Numb hands won't function well during a round of golf, but it's hard to hold a club while wearing heavy gloves or mittens. Some golfers are comfortable wearing all-weather or winter gloves on both hands, and some are not. As an alternative, try a pair of cart gloves or mittens that fit comfortably over your regular handwear. You simply pull the gloves off to play a shot, then slip them back on.
Hot Heads
In cold weather, your body rapidly loses heat from the top of your head. You'll need some kind of cap to help keep in the heat. The best choice in very cold weather may be a ski cap. While not as fashionable as a baseball-style hat, the ski cap will keep you from leaking heat. You may also want to experiment with a winter golf hat that features ear flaps you can pull down or roll up for comfort.