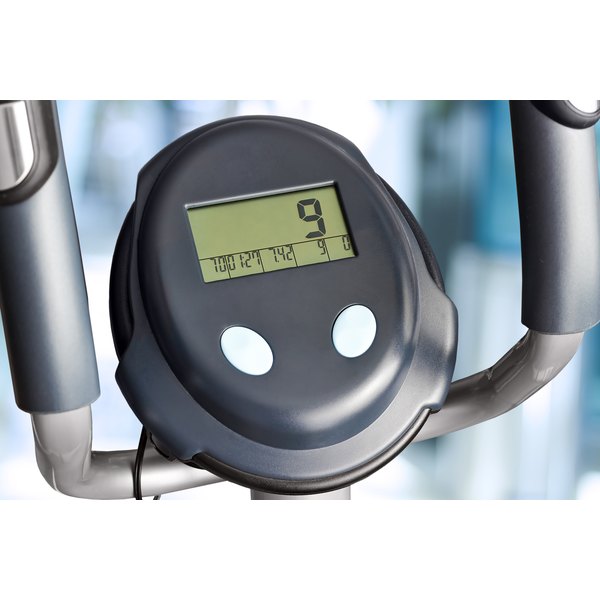 The elliptical trainer's role in weight loss is as a calorie burner. To lose weight, you must expend more calories through metabolism and activity than you take in through food and drink. Working out on an elliptical trainer is a form of aerobic activity, which is the most efficient way to burn calories.
Basics
You have to create a deficit of 3,500 calories through diet and exercise in order to lose 1 lb. of fat. Depending on the intensity at which you exercise and your weight, working out on an elliptical machine can burn up to 800 calories per hour. Most elliptical trainers are equipped with digital speedometers that tell you how fast you are going. They also offer digitally adjustable resistance levels, so you have a way to increase or decrease the intensity of your workout. If you are just starting an exercise regimen, find a comfortable resistance level and speed, and work out for a minimum of 20 minutes three times a week, with at least one day of rest between each workout. Your goal should be to work your way up to at least two hours and 30 minutes of working out per week, which amounts to 30 minutes per day, five days per week.
Intervals
As you become accustomed to your daily workouts on the elliptical machine, incorporate interval workouts once or twice per week. In an interval workout, you periodically increase the speed or intensity of the workout for relatively short bursts before returning to your normal pace. This allows you to burn more calories than you would in the same amount of time at your normal pace. For example, you could start out on resistance level 8 on your elliptical machine and exercise at that pace for 8 minutes. Then you could increase the resistance level to 10 and exercise at that level for two minutes. In a 40-minute workout, for example, you would complete this cycle four times, giving you a total of eight minutes of faster calorie burn than if you had kept a steady pace throughout.
Variety
Even if the elliptical trainer is your primary source of aerobic activity, you should still incorporate other forms of exercise on occasion to keep the workout fresh and to give your body something new to adjust to. If you are on the elliptical trainer because you enjoy the low-impact element it provides, work out on a stationary bicycle once a week. If you don't mind adding high-impact exercises, take one day per week to run on a treadmill or in your neighborhood.
Time Frame
Your goal should be to lose between 1 and 2 lbs. per week. If you are a beginner it may take you a few weeks to work up to the point at which you can burn the necessary calories on the elliptical machine to achieve this weight loss goal. For example, to burn 3,500 calories in one week, working out five times per week, you'd have to burn 700 calories per workout. Depending on your starting weight and fitness level, that may be difficult to achieve.
Considerations
Any weight loss exercise program is going to be more efficient and effective when it incorporates calorie control through diet. Instead of trying to create the full calorie deficit through exercise alone, you can reduce calories from your normal daily intake by monitoring what you eat. For example, if you consume 3,000 calories per day, dropping that to 2,500 and burning an additional 200 on the elliptical machine will reduce the time that you have to spend working out. But don't starve yourself. Eat a balanced diet of lean meats, low-fat dairy, fruits, vegetables, whole grains, nuts and seeds to provide proper nutrition during any weight loss regimen.